Alix E. Harrow is a New York Times bestselling author who writes unique and engrossing fantasy stories. With the popularity of her 2023 Gothic fantasy novel, Starling House, I wanted to share a complete list of her novels in order (so you can figure out which one you want to pick up next)!
**Please note, some links on this page are affiliate links. If a purchase is made through an affiliate link, I may receive a commission at no cost to you. As an Amazon Associate, I earn from qualifying purchases. See my full disclosure policy here. Thanks for your support!
Fantasy Novels by Alix E. Harrow
Alix E. Harrow writes fantasy novels that are often set in our world, but that have links to other worlds. They're whimsical and emotional all at once, with characters that feel real.
Her debut novel, The Ten Thousand Doors of January, was nominated for numerous awards, including the Hugo Award for Best Novel, the Nebula Award for Best Novel, and Goodreads Choice Awards in multiple categories.
Here are all of her full-length novels (and longer novellas) in order:
The Ten Thousand Doors of January
Genre: Historical Fantasy/Magical Realism
Order on Amazon | Order on Bookshop.com
January Scaller is the lonely ward of a wealthy man, living in a vast estate filled with strange trinkets.
One day, she comes across a peculiar book – and she's inexplicably drawn to what's inside. Because it's not just a story, but a doorway to somewhere else.
Publication date: September 10th, 2019
The Once and Future Witches
Genre: Historical/Urban Fantasy
Order on Amazon | Order on Bookshop.com
This historical fantasy novel, set in the late 1800s, is about a trio of sisters – all witches – who join the suffragist group of New Salem to fight for women's rights.
They're determined to bring back long-forgotten magic to fight for all the women who've never had a voice in society. But soon, danger comes knocking.
Here are more enchanting witchy fiction books!
Publication date: October 13th, 2020
A Spindle Splintered (Fractured Fables #1)
Genre: Fantasy/Fairy Tale Retellings
Order on Amazon | Order on Bookshop.org
This novella is sort of a modern, split-world retelling of Sleeping Beauty. It's about Zinnia Gray, a young woman with a fatal disease who likely doesn't have much longer to live.
On her 21st birthday, she pricks her finger on a spinning wheel, and finds herself somewhere very unexpected. Along the way, she meets someone who's not so different from herself.
In this story, Harrow takes the passive Disney version of Sleeping Beauty and breathes new life into it, making it much more interesting – and giving the villain a more complex story of her own.
Publication date: October 5th, 2021
A Mirror Mended (Fractured Fables #2)
Genre: Fantasy/Fairy Tale Retellings
Order on Amazon | Order on Bookshop.org
In this follow-up novella to A Spindle Splintered, we return to Zinnia Gray's journey. After rescuing what feels like endless damsels in distress, Zinnia is ready for a change. But then, Snow White's Evil Queen contacts her with a request.
The queen has found out how things will end for her (quite badly), and she needs Zinnia's help to change her terrible fate.
Publication date: June 14th, 2022
Starling House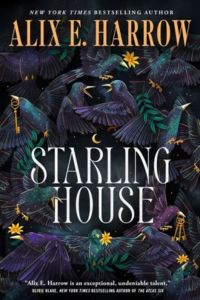 Genre: Gothic Fantasy
Order on Amazon | Order on Bookshop.com
A ramshackle house – once owned by a reclusive author and illustrator – sits abandoned for years in a small town.
Until one day, a woman receives a job offer at the house that she can't refuse, setting a strange force in motion. She and the house's lonely heir will have to work together to save the house from being overtaken by darkness.
(This book was one of the October 2023 Book of the Month picks!).
Publication date: October 3rd, 2023
If you love Alix E. Harrow's books, you might enjoy these other wonderful authors & series: