Magical realism is a sub-genre of the fantasy genre that's perfect for fantasy readers and non-fantasy readers alike! The extent of fantasy elements in magical realism novels can range quite a bit, but they're almost always grounded in the real world. Read on for more about this genre, and for some of the most enchanting magical realism books to read!
**Please note, some links on this page are affiliate links. If a purchase is made through an affiliate link, I may receive a commission at no cost to you. As an Amazon Associate, I earn from qualifying purchases. See my full disclosure policy here. Thanks for your support!
What is magical realism?
Magical realism stories can range from featuring very minor fantastical elements to a fair amount of magic, but they're still more centered in reality than other types of fantasy books.
Some common elements in magical realism novels include time travel, a character with a magical ability, and/or myths or folk tales that actually exist in the world of the story.
Some popular and well-known magical realism authors include Gabriel Garcia Marquez, Haruki Murakami, Isabel Allende, and Sarah Addison Allen. This sub-genre was essentially created by Latin American authors in the 1950s, and has become quite widespread.
Enchanting Magical Realism Novels
I'm a huge fan of this genre – it's perfect for when I'm in the mood for something a little magical, but not a full-blown fantasy story. (For something with a similar feel but more magical, try these cozy fantasy books!).
Below, I'm sharing some wonderful magical realism books to read, with a wide range of styles and plot elements. I've included a mix of classic books and newer releases – something for everyone to enjoy. 🙂
(If you love magical realism, be sure to check out these cozy fantasy books for a similar whimsical vibe!).
One Hundred Years of Solitude by Gabriel García Márquez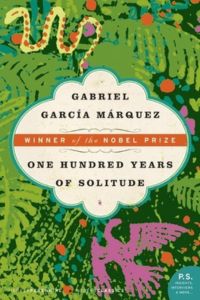 Order on Amazon | Order on Bookshop.com
Synopsis: This story has been said to define the magical realism genre itself, so it's a great place to start if you're looking for a classic read!
It follows the Buendia family living in a small, remote town in Colombia over the span of one hundred years. The setting is the fictional town of Macondo, where pockets of magic exist and strange happenings occur.
The Wishing Game by Meg Shaffer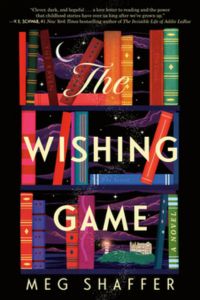 Order on Amazon | Order on Bookshop.com
Synopsis: A beloved children's author resurfaces years after his mysterious disappearance with a new novel. But only a select few are invited to his home on Clock Island and given the chance to compete for the ultimate prize: the only copy of his new book.
Lucy Hart grew up reading the Clock Island books, and she's given the chance of a lifetime when she's chosen for the competition. But will it be everything she hoped for?
The House of the Spirits by Isabel Allende
Order on Amazon | Order on Bookshop.com
Synopsis: This is another Latin American novel that's considered a classic of the magical realism genre. It's an epic generational saga that follows a Chilean family – the Truebas – from the early 1900s through the 1970s, as they navigate love, tragedy, fate, and an undercurrent of magic.
The Island of Missing Trees by Elif Shafak
Order on Amazon | Order on Bookshop.com
Synopsis: This beautiful historical fiction novel covers multiple generations, opening with a forbidden love between Greek and Turkish teenagers, and following one of them years later when he returns to the island as a botanist. It was also a Reese's Book Club pick.
Remarkably Bright Creatures by Shelby Van Pelt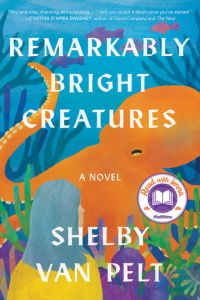 Order on Amazon | Order on Bookshop.com
Synopsis: After her husband dies, a woman begins working the night shift at her local aquarium. There, she befriends a giant octopus – who might hold the key to what happened to her son when he vanished thirty years ago.
This book was nominated for the Audie Audiobook of the Year Award, and was also nominated for the Goodreads Choice Award in two categories (Best Fiction and Best Debut Novel).
The Ocean at the End of the Lane by Neil Gaiman
Order on Amazon | Order on Bookshop.com
Synopsis: A man returns home for a funeral, triggering a long-buried memory about the girl he met there as a young boy, and the remarkable events that followed.
This is one of my favorite books by one of my favorite authors of all time, and I highly recommend it!
Nothing to See Here by Kevin Wilson
Order on Amazon | Order on Bookshop.com
Synopsis: A funny, moving novel about a woman who becomes a caregiver to two children – only to find they have strange abilities. In fact, when agitated, they happen to burst into flames.
Can she make it through the summer without drawing too much attention to the twins?
The Midnight Library by Matt Haig
Order on Amazon | Order on Bookshop.com
Synopsis: Nora Seed isn't sure she wants to be alive. But when she finds herself between life and death, she sees a library of books all around her. All the books represent different realities – based on all the decisions Nora's made in her life – that she can jump into and experience. But this library won't last forever, and Nora must make a crucial choice.
Here are my favorite quotes from The Midnight Library!
Kafka On the Shore by Haruki Murakami
Order on Amazon | Order on Bookshop.com
Synopsis: This popular magical realism story follows an unlikely pair: a teenage boy who ran away from home, and an elderly man who was injured in the war. They journey through Japan, experiencing one strange occurrence after another, until they realize their destinies.
Shark Heart by Emily Habeck
Order on Amazon | Order on Bookshop.com
Synopsis: A few weeks after getting married, a man is diagnosed with a rare condition: while he will keep his mind, his body will slowly change into that of a great white shark. He and his new wife must grapple with this news – and figure out what it means for their future.
This unique, genre-bending novel delves into the heart of marriage, and what happens when one person goes through a life-altering change.
Oona Out of Order by Margarita Montimore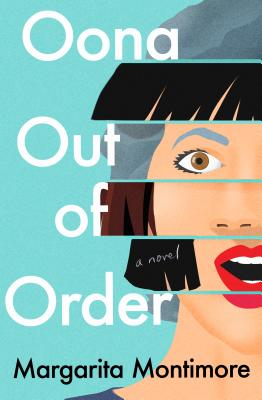 Order on Amazon | Support local bookstores
Synopsis: Oona Lockhart is at a crossroads. On New Years Eve at age 19, she has a choice to make: go to London to study economics, or stay in Brooklyn to study music and be with her boyfriend. Instead, she wakes up the next day 32 years into her future – and finds out she'll live her life out of order, hopping between decades.
The Rules of Magic by Alice Hoffman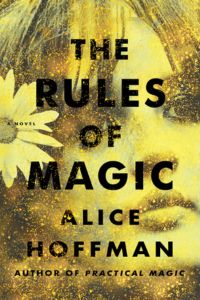 Order on Amazon | Order on Bookshop.com
If you've read the book Practical Magic (or seen the movie), this is a must-read prequel!
It follows the Owens children (including the aunts from Practical Magic – Jet and Franny) as they grow up in New York during the 1960s, and begin to grow into their magical powers.
A Tale for the Time Being by Ruth Ozeki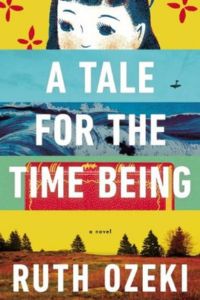 Order on Amazon | Order on Bookshop.com
Synopsis: A lonely sixteen-year-old girl living in Tokyo starts a journal to document the life of her great-grandmother, a Buddhist nun.
Years later, a writer living on an island finds a Hello Kitty lunchbox washed ashore. The items inside pull her into the past, affecting how her future unfolds.
The Two Lives of Lydia Bird by Josie Silver
Order on Amazon | Order on Bookshop.com
Synopsis: Lydia Bird lives two timelines simultaneously: one where her boyfriend of ten years dies in a tragic accident, and one where the accident never happens. It's a story about grief, love, second chances, and the tough choices we have to make.
Other Birds by Sarah Addison Allen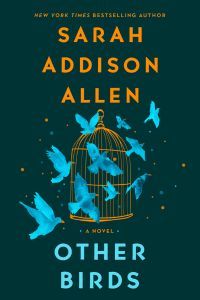 Order on Amazon | Order on Bookshop.com
Synopsis: From the bestselling author of Garden Spells comes an enchanting novel about a woman who moves to a small, reclusive island off the coast of South Carolina after her mother dies. She meets her quirky neighbors, each one with a unique story that continues to unfold.
Whether you prefer a hint of magic in your stories or a slightly heavier dose of fantasy, I hope you enjoy these magical realism books. Happy reading!
More posts you might enjoy: