If you love books and you're looking for a creative outlet or a community of like-minded bibliophiles, you've got to join Bookstagram! Here's everything you need to know about how to start a Bookstagram.
I've been involved with Bookstagram for over 5 years now. In fact, I wrote an entire book all about it! In this post, I'm sharing how to get started on Bookstagram, so you can join this awesome community, too!
Not only is Bookstagram a great place to post book reviews or show off your bookish photography skills, but it's also a perfect way to find your next favorite read. (I can't tell you how much my TBR list has grown since joining!).
On Bookstagram, you can connect with fellow book lovers over your favorite fandoms, join fun reading challenges, and you can even work with publishers and brands to get free ARC books and bookish merchandise sent to your doorstep.
If you're not sure where to start, keep reading. It's easy to create an account. But first, a little introduction to the social media community itself.
What is Bookstagram?
Bookstagram is a little slice of Instagram just for bibliophiles.
It's not just a hashtag; it's a way of life.
Basically, it's one giant book club with hundreds of thousands of people who actually understand your obsession with books. (In fact, they help fuel it!)
There are users who post solely about romance books, horror books, or classic literature. There are book bloggers, literary podcasters, and book vloggers (users who create videos discussing books). And, there are online bookshops and bookish candle companies and artists inspired by literature.
All of these people come together to make up the multi-passionate and dynamic Bookstagram community.
(Let's connect on Bookstagram! You can find me @reader.haven).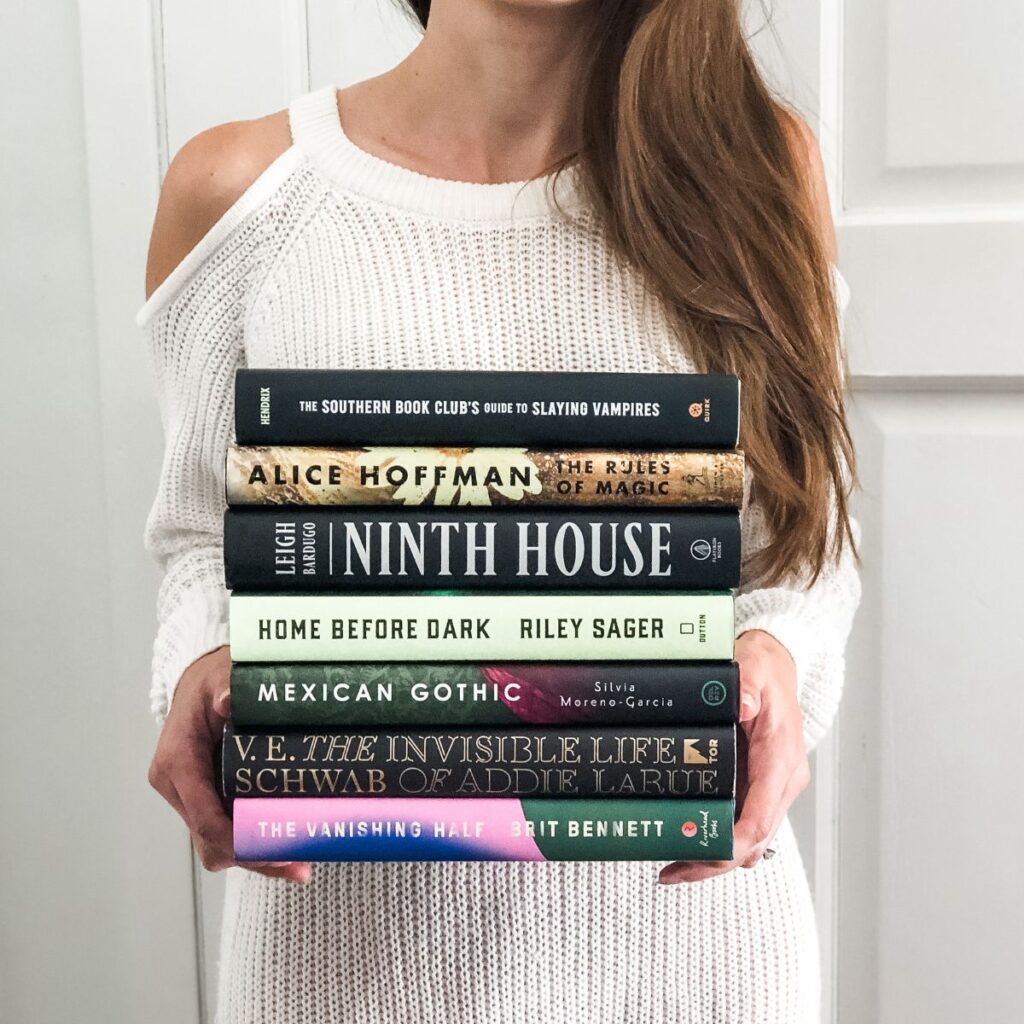 Bookstagram has been around for at least 8 years, and it continues to grow each day (I think it has something to do with the fact that it's the best online community there is!)
It's a haven for bibliophiles to connect and discuss stories; a place to discover your next enthralling read and share your unique perspective. It's a wealth of creative inspiration and discovery.
Having a Bookstagram account allows you to share your love for books, your unique voice, and your creativity all at once. For many bibliophiles, it's an irresistible trifecta.
(Psst…I wrote an in-depth guide to Bookstagram, including tips from 30 established Bookstagrammers. Check it out here!)
How to Start a Bookstagram
1. Pick a Bookstagram Name (Instagram Account Handle)
The first step to start a Bookstagram is to create a personal Instagram account (or a business account, if you prefer). Then, it's time to choose a name for yourself. This can trip a lot of people up, because it seems so permanent.
But guess what? You can change your handle at any time. So think on it a bit and pick something you like!
You may want to choose a handle that makes it clear your account is about books or reading. But you don't need to use those words specifically, of course! You can also use a variation of your actual name, such as '[name]readsbooks'.
Here are a few words to inspire some Bookstagram name ideas:
pages
literary
words
shelf
library
chapter
tomes
Remember to make your handle unique to you. What do YOU care about when it comes to your bookish life? That's what matters most. Infuse your personality into your account, starting with your Bookstagram name.
2. Fill out your bio/profile
The next step is to fill out your Instagram profile.
Start by selecting a profile picture. If you don't have one on hand, you can create a logo for yourself for free using Canva. But photos of yourself make your account more personable. It all depends on what you're comfortable with!
Next, add your first name to the name field. Then, in the description, add a few snippets of info about yourself. Are you a coffee-obsessed? A dog lover? Do you love young adult books? What's your Hogwarts house? Is true crime your all-time favorite genre? Do you love listening to audiobooks?
You can also put details like your current read, or your Goodreads yearly reading goal.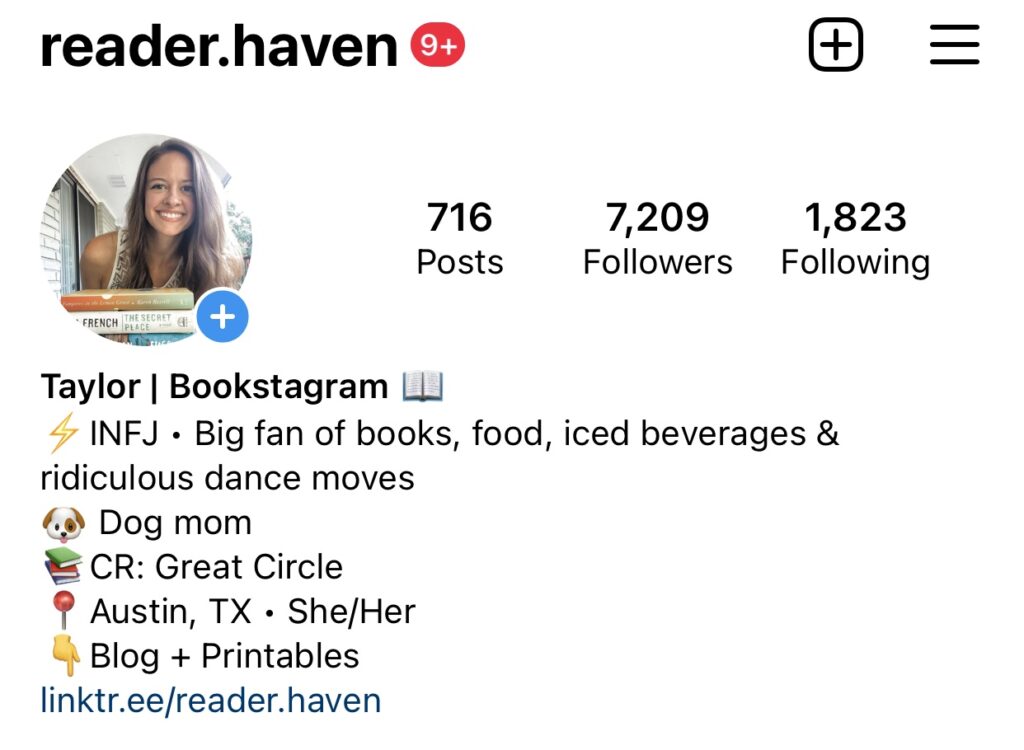 Then, add a link/URL. This can be a link to your Goodreads account, your book blog, or anything you want.
Here are more Bookstagram bio ideas to get you started!
3. Determine your Bookstagram theme
When you start a Bookstagram, you may want to have a particular theme or aesthetic in mind. This step is entirely optional, though.
You don't have to have your entire feed planned out before you start. You don't even need to have a specific theme at all. But you can, if you want to!
Your theme (or aesthetic) is essentially the colors & tones you use, the backgrounds & props you use, and sometimes the types of books you focus on.
For example, if you love fantasy novels and cozy feels, you might consider using muted tones with wooden/natural props, blankets, and teacups. Or, you might go wild with bright colors and metallic props.
Maybe you prefer a minimalist look, focusing on just a book and a coffee cup. The possibilities are endless – get creative with it!
It's all about what you like and what you have on hand. Remember: you can change your theme at any time, so don't let indecision hold you back.
4. Take a photo & post your first post
Once you've completed your profile, it's time to post your first photo (of a book, of yourself, or whatever you want) and introduce yourself! Let people know who you are, your favorite genres, and what they can expect from your account.
Bookstagram photos don't need to be perfectly styled. It's totally fine to keep it casual! You might enjoy using lots of Bookstagram props, or you might want to keep your photos minimal, focusing on the book itself. You do you!
Make sure to use Bookstagram hashtags like #bookstagram and #meetthebookstagrammer. That way, your first post is more likely to get seen by other users.
Here are 30+ Bookstagram post ideas & book photo inspiration to get you started.
That's it: now you're ready to start a Bookstagram and join in on the fun! The most important part of Bookstagram is engaging with others – it's how you make connections and get inspired. Find some bookish accounts to follow and get chatting!
More about Bookstagram here:
Click here to learn more about the Ultimate Guide to Bookstagram eBook (plus read a free excerpt)!