Creeping shadows, crumbling mansions, and the allure of the supernatural – plus magic and/or fantasy elements – all come together in the popular sub-genre of Gothic fantasy! From Gothic romance to dark fantasy books, these Gothic fantasy novels are all moody, atmospheric, and perfect to sink into on a cold, dreary evening.
**Please note, some links on this page are affiliate links. If a purchase is made through an affiliate link, I may receive a commission at no cost to you. As an Amazon Associate, I earn from qualifying purchases. See my full disclosure policy here. Thanks for your support!
What is the Gothic fantasy genre?
Gothic fiction is defined by strange and macabre occurrences, lush and decaying estates, feelings of dread, the supernatural, and often – but not always – romantic elements.
(For reference, some well-known Gothic novels include Rebecca by Daphne du Maurier, The Picture of Dorian Gray by Oscar Wilde, and The Fall of the House of Usher by Edgar Allan Poe.)
Add in threads of magic, fantastical elements, and/or otherworldly settings, and you've got yourself a Gothic fantasy story!
Check out these modern Gothic novels (non-fantasy) and these Gothic fiction short stories for more Gothic reading inspiration.
Best Gothic Fantasy Novels
In this list, I'm focusing on modern Gothic fantasy books. These novels range from slightly eerie to downright spooky, so you'll find a little bit of everything here!
Starling House by Alix E. Harrow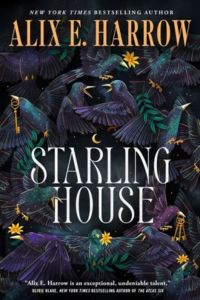 Order on Amazon | Order on Bookshop.com
A ramshackle house – once owned by a reclusive author and illustrator – sits abandoned for years in a small town.
Until one day, a woman receives a job offer at the house that she can't refuse, setting a strange force in motion. She and the house's lonely heir will have to work together to save the house from being overtaken by darkness.
House of Salt and Sorrows by Erin A. Craig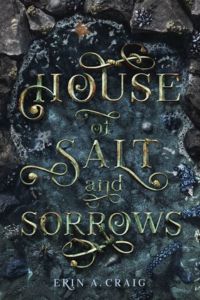 Order on Amazon | Order on Bookshop.com
This YA Gothic fantasy novel is a retelling of the classic dark fairy tale, The Twelve Dancing Princesses by the Brothers Grimm.
Set in a manor by the sea, twelve sisters are struck by tragedy one by one. One sister – haunted by spectral visions and curious about a mysterious stranger – is determined to solve the mystery before she becomes the next victim.
What Moves the Dead by T. Kingfisher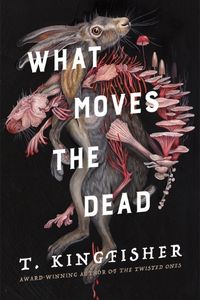 Order on Amazon | Order on Bookshop.com
What Moves The Dead is a retelling of Edgar Allan Poe's classic story, The Fall of the House of Usher.
With creepy fungal growths, an old, decaying mansion, animals acting strangely, and spooky voices at night, this Gothic fantasy novel is a must-read for horror lovers.
One Dark Window by Rachel Gillig
Order on Amazon | Order on Bookshop.com
This fantasy/horror mashup features a woman who can harness ancient magic, a mysterious man, and a treacherous quest to cure their kingdom from being overtaken by dark magic.
If you're looking for a unique fantasy world setting and a heavy dose of romance in your reading, this is a great choice. And it's a series, too!
Within These Wicked Walls by Lauren Blackwood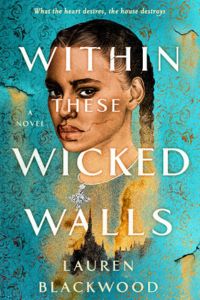 Order on Amazon | Order on Bookshop.com
This story is an Ethiopian-inspired retelling of the classic Gothic fiction novel Jane Eyre, but with horror and fantasy elements! It's about a woman whose specialty is cleansing houses of the Evil Eye.
She's hired by Magnus Rochester to save his estate from evil – but this job turns out to be much more dangerous than anything she's ever done before.
Down Comes the Night by Allison Saft
Order on Amazon | Order on Bookshop.com
A disgraced woman with magical healing powers and an infamous, sworn enemy of her kingdom are trapped inside a crumbling, snow-drenched estate in this YA Gothic fantasy romance.
The monsters are closing in, and they'll have to rely on each other if they have any hope for survival.
Gallant by V.E. Schwab
Order on Amazon | Order on Bookshop.com
After growing up at a boarding school, Olivia Prior is summoned back to her childhood home – Gallant – by a letter. But when she arrives, she realizes no one knew she was coming.
With her hostile cousin sulking around, haunting visions at every turn, and a strange wall beckoning her, Olivia is determined to uncover the secrets of her home – and her mother's descent into madness – once and for all.
A Study in Drowning by Ava Reid
Order on Amazon | Order on Bookshop.com
Two rival students arrive at a crumbling author's estate: an architecture student, there to redesign the house, and a stuffy literature scholar who's determined to prove the author is a fraud.
As they put together clues from the author's diaries and letters, they realize the house is hiding more sinister forces than they ever imagined – and that they're in danger.
All the Murmering Bones by A.G. Slatter
Order on Amazon | Order on Bookshop.com
Decades ago, the O'Malley family struck a deal with mermaids in order to protect their ships and allow their business to prosper. But this prosperity came at a terrible price: they had to give the creatures a child from each generation.
Now, the family hasn't kept up their side of the bargain, and they've fallen into ruin. But one member of the family will do anything to restore their power.
This dark Gothic fairy tale features haunting family secrets, creatures of myth, and the darkness of the sea.
Belladonna by Adalyn Grace
Order on Amazon | Order on Bookshop.com
An orphaned young woman named Signa goes to live with her relatives, the Hawthornes, in their massive estate. But when a spectral vision reveals that the Hawthornes' mother was poisoned to death, Signa realizes the family is in danger.
Her ties to Death himself – a shadow that has walked beside her throughout her life – may be her only chance to solve the mystery and save her new family.
These dark and atmospheric Gothic fantasy books are sure to terrify and delight. Happy reading!
Related posts you might enjoy: