There's something so spellbinding about Gothic fiction, from the moody settings to the romanticism to the otherworldly elements. It's an especially popular genre during the fall and winter months, when the temperatures get colder and the nights get longer. Read on for a list of the best modern Gothic novels to cozy up with!
**Please note, some links on this page are affiliate links. If a purchase is made through an affiliate link, I may receive a commission at no cost to you. As an Amazon Associate, I earn from qualifying purchases. See my full disclosure policy here. Thanks for your support!
What is Gothic fiction?
Gothic fiction (or Gothic literature) is classified more by the feelings it evokes – brought on by an eerie atmosphere, the supernatural, doomed characters, etc. – than a rigid set of rules.
Often, Gothic novels feature darker elements, such as hauntings, crumbling mansion settings, and themes of isolation and power. Sometimes, they also have a thread of romanticism.
Some Gothic novels are more eerie than scary, and others fit squarely into the horror category.
Best Modern Gothic Books
The modern Gothic genre is strongly influenced by the classics that came before – stories from authors like Edgar Allan Poe, Mary Shelley, and Emily Bronte.
While the novels in this list range from historical fiction to contemporary, they're all set during the 1900s or later. (In comparison, classic Gothic literature emerged in the late 1700s.)
For even more reading inspiration, check out this post for the best Gothic fantasy novels to read! You might also enjoy this list of Gothic short stories.
We Have Always Lived in the Castle by Shirley Jackson
Order on Amazon | Order on Bookshop.org
I'm a huge fan of Shirley Jackson, from her classic horror novel The Haunting of Hill House to her chilling short story, The Lottery.
We Have Always Lived in the Castle is about a young woman named Merricat who lives with her sister in a crumbling estate owned by their family. One day, a cousin arrives, disrupting their daily routines – and digging into their family secrets.
This story is not outright scary like a jumpy horror flick, but it will creep up on you. While reading it, you'll feel a growing sense of dread without fully understanding why (at least not at first).
It's a perfect story for a dreary winter night!
The Thirteenth Tale by Diane Setterfield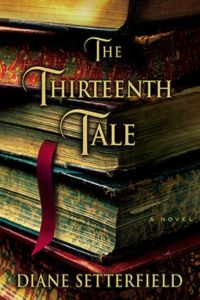 Order on Amazon | Order on Bookshop.org
Famous, aging author Vida Winter summons a biographer – chosen for reasons known only to Winter – to finally tell her incredible life story.
The story Winter tells is strange and eerie, about a family, a haunting, and a terrible fire. But is it true?
The Little Stranger by Sarah Waters
Order on Amazon | Order on Bookshop.org
Set in the late 1940s, a doctor is summoned by the Ayers family to their crumbling mansion in the English countryside.
Their ancestors have lived there for centuries, and the current occupants – a mother and her two children – haven't quite caught up with modern society.
But soon, the doctor realizes there may be something sinister haunting the family. And now, he might be in danger as well.
Rebecca by Daphne du Maurier
Order on Amazon | Order on Bookshop.org
Rebecca is considered a classic of the modern Gothic genre.
A shy young woman marries a rich man – Maxim de Winter – and moves into his massive estate by the sea, known as Manderley.
But the man's former wife, Rebecca, died only a year ago. Soon, the new wife begins to feel haunted by the reminders of Rebecca's influence all over the house.
Mexican Gothic by Silvia Moreno-Garcia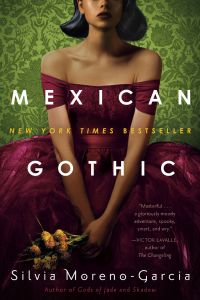 Order on Amazon | Order on Bookshop.org
Set in 1950s Mexico, Mexican Gothic is a unique take on Daphne du Maurier's Rebecca.
A debutante receives a letter from her newly-married cousin – who believes she's in danger – asking for help. She arrives at the mysterious mansion, only to be greeted by even more dark secrets.
I would definitely consider this book in the horror genre, but it's absolutely worth reading if you can handle some goriness and darker elements.
The Historian by Elizabeth Kostova
Order on Amazon | Order on Bookshop.org
A woman finds an old book and a collection of ancient letters, left behind by her father. With these unusual documents, she's drawn into a quest across Europe, the same one that nearly ruined her father years ago: to unearth the vampiric legend of Vlad the Impaler and Dracula.
The Shadow of the Wind by Carlos Ruiz Zafón
Order on Amazon | Order on Bookshop.org
Set in Barcelona in the 1940s, this engrossing story follows Daniel, a vintage bookseller's son. He finds a strange book, titled The Shadow of the Wind, and sets out to find the author's other works.
But soon, Daniel discovers that someone has been purposefully destroying every copy of the author's books – and he unwittingly unearths one of his city's darkest secrets.
This is one of my favorite books of all time, and I would recommend it to everyone. (If you're wondering: while some Gothic fiction is very entwined with the horror genre, this particular book is not scary!).
A House With Good Bones by T. Kingfisher
Order on Amazon | Order on Bookshop.org
Sam Montgomery and her brother return to their childhood home in North Carolina for a visit with their mother.
But instead of the warm, cheerful household they remember, the house looks and feels wrong – and their mother is acting strangely.
If you enjoy this Southern Gothic book, you'll probably also enjoy Kingfisher's novel What Moves the Dead (inspired by Edgar Allan Poe's The Fall of the House of Usher).
The Only One Left by Riley Sager
Order on Amazon | Order on Bookshop.com
The only survivor of a terrible murder, Lenora Hope – now old and in a wheelchair – still lives in the old mansion where her family was killed decades ago.
When Kit McDeere, a home health aide, comes to care for Lenora, Lenora insists she wants to tell Kit everything that happened.
But can Kit trust her? Is Lenora as innocent as she claims?
Classic Gothic Novels
If you want to delve into the classics – the stories that inspired modern Gothic fiction – here's a list of must-read Gothic literature:
The Fall of the House of Usher by Edgar Allan Poe
Jane Eyre by Charlotte Bronte
The Castle of Otranto by Horace Walpole
Frankenstein by Mary Shelley
Wuthering Heights by Emily Bronte
The Picture of Dorian Gray by Oscar Wilde
Dracula by Bram Stoker
Modern Gothic books (and classic Gothic novels) are perfect for spooky season or reading by the fire on a chilly night. Enjoy!
Do you have a favorite Gothic novel? Let me know in the comments. 🙂
Related posts you might enjoy: