If you're a reader, you've probably heard of Book of the Month. But have you tried it yet? If you're curious how it works, I put together a complete guide on everything you need to know about BOTM – and whether or not it's worth joining!
(This is not a sponsored post. I've been a member of BOTM for over two years, and I'm sharing my own experience below.)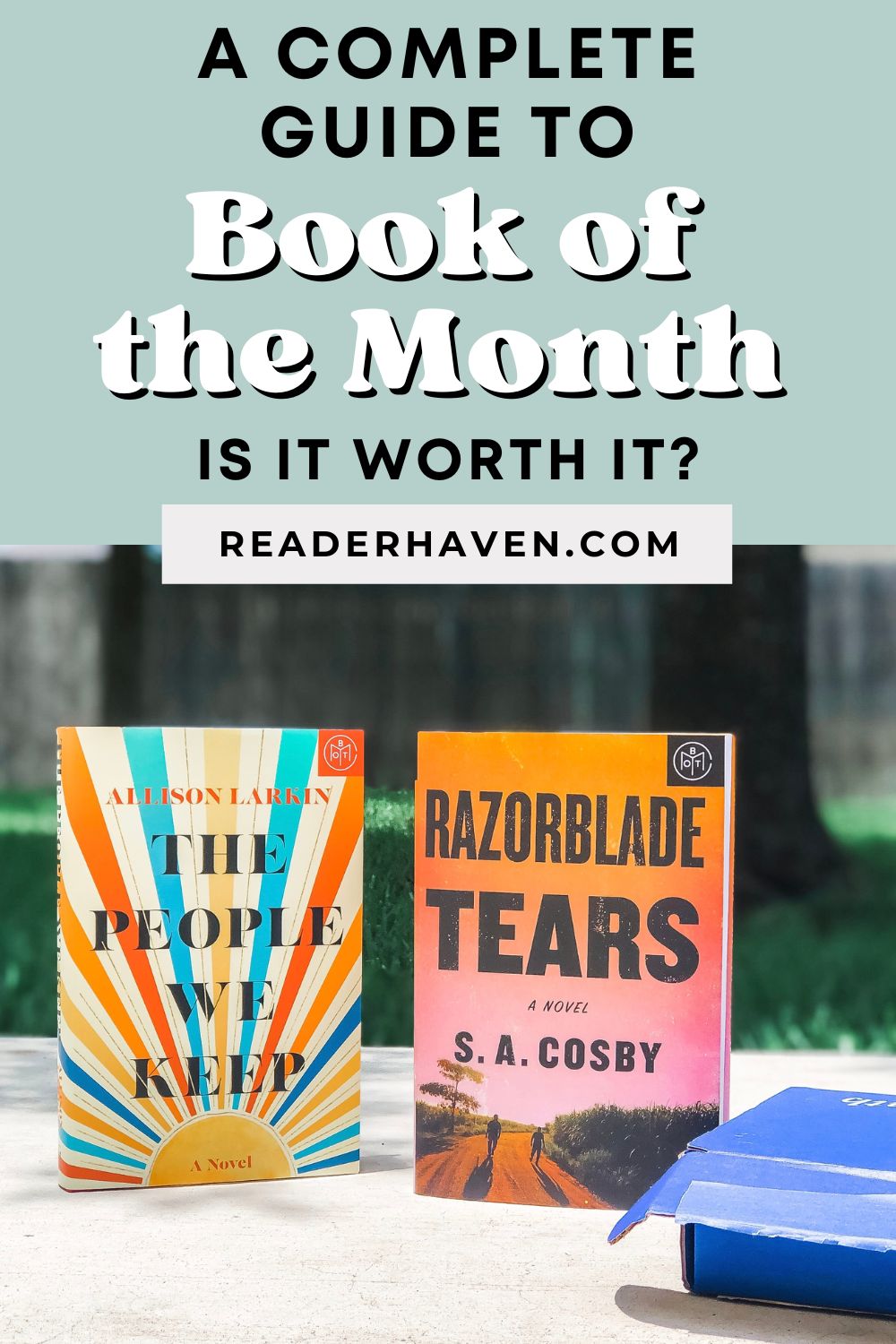 What is BOTM? How does it work?
Book of the Month (BOTM) is a monthly subscription for readers, originally founded in 1926. They offer a selection of books – between five and seven books per month – at discounted prices.
In the past, BOTM only offered hardcover books, but they now also offer audiobooks.
In each month's book selection, there's usually a good mix of popular authors, highly-anticipated novels, and debut authors, with a wide variety of genres (mostly fiction). They are often new or recent book releases that have been curated by the BOTM team.
You can also 'add-on' additional books to your order each month for an even lower price. These include new releases from that month and previous BOTM selections from past years (there are tons of options!).
Members also receive perks and fun bookish swag (like tote bags, stickers, etc.) for reaching certain milestones after joining. You'll also get a free bookmark every month with your book order.
Additionally, after you've been a member of Book of the Month for a year, you'll become a BOTM 'BFF'. You'll get a free tote bag and a complimentary add-on book credit during your birthday month. And, at the end of each year, you'll get to pick one of their five 'Book of the Year' finalist books for free!
How much does Book of the Month cost?
For new members, a BOTM subscription costs $16.99 per month plus tax (which gets you 1 credit to use on a book). It's an automatic charge, but you can skip any month you want and save that credit to use the next month.
If you choose to add on additional books to your order, they will be $10.99 plus tax per book. (Just a heads up: the amount of add-on books you can purchase are limited each month).
You can also choose from other plan options, including a yearly option that gives you 12 credits at a couple dollars less per credit (you get a slight discount for paying for a year upfront).
What types of books do they offer?
Book of the Month offers a variety of fiction genres (with an occasional memoir or non-fiction book). Here are some of the genres I've seen more than once in the monthly selections:
General/Literary/Contemporary Fiction
Historical Fiction
Mystery/Thriller
Romance
Young Adult
Fantasy
Science Fiction (not quite as common)
Horror (not quite as common)
When are new book selections released?
BOTM book selections are typically released on (or very close to) the first day of each month. They have been released a little earlier on occasion.
If you're a member, you should also get an email reminder when the books are released, so you'll know to go check them out.
Is Book of the Month worth it?
I've been a member of BOTM club since 2021, and I absolutely think it's been worth it! You can get hardcover books for cheaper than they'd be in stores (or online), and you can add-on additional books for even cheaper.
They usually have a great selection of books to choose from, with a variety of genres. Plus, they make it super easy to skip months whenever you decide to – whether it's because you're not interested in the book selection that month, or you just don't need any more books at the moment.
In my experience, they've always shipped the books pretty quickly, and I've never had an issue with the wrong book being sent or anything.
The ability to easily skip months is huge for me. I own so many books already, so I'm trying to be reasonable about how often I buy new books. (As much as I can be – we all know that self-control only goes so far when it comes to new books!). 🙂
So yes: for me, it's been worth it, and I'd definitely recommend trying it out. (The only caveat to this: if you're not a fiction reader, your options will be really limited, since their selection is mainly focused on fiction books).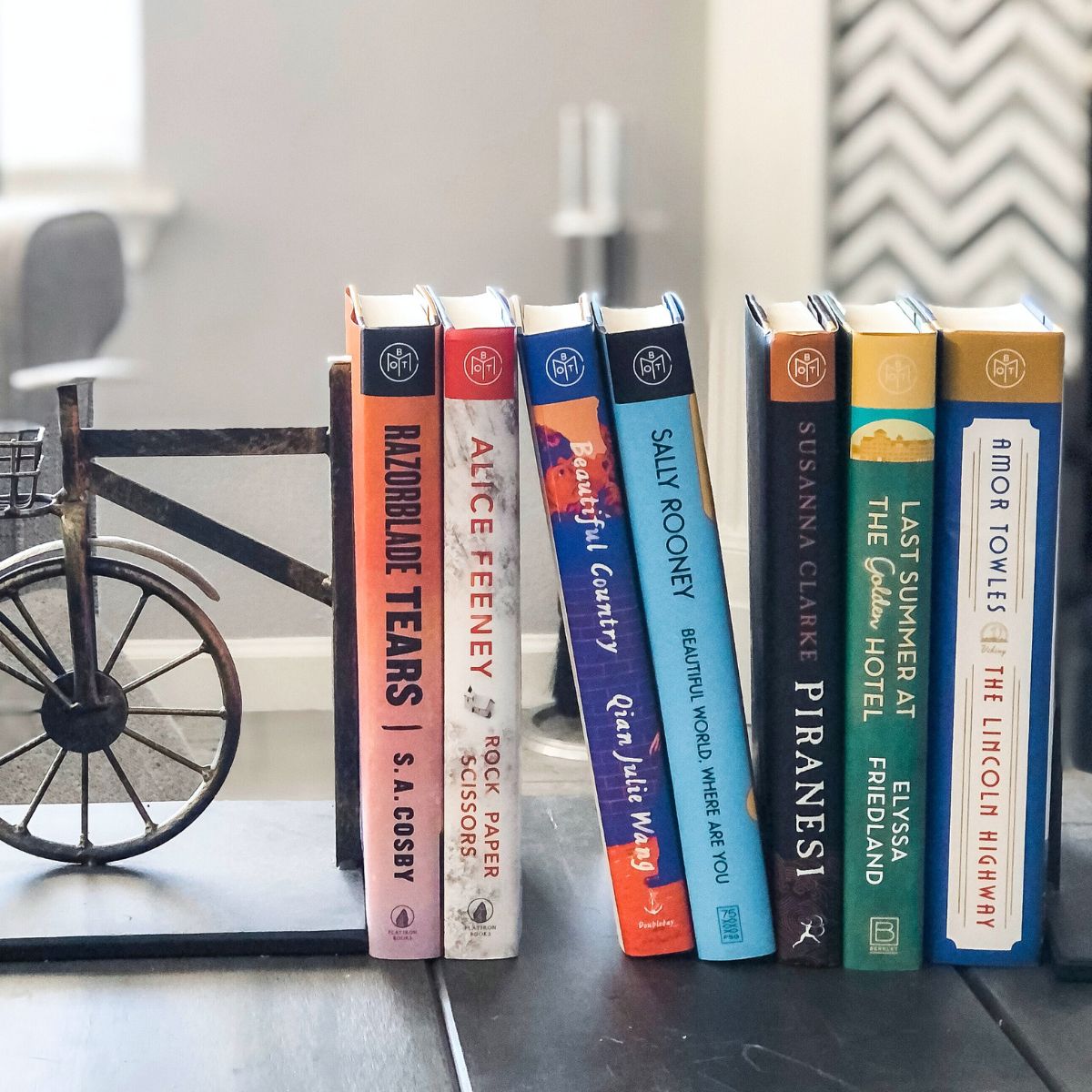 As a member, you can also save even more money by sharing a referral code with friends and family who are interested in joining BOTM. For each person who signs up using your code – as long as they're a new member to BOTM – you'll get a credit for a free book.
What are the cons of BOTM?
Most Book of the Month hardcovers have a BOTM logo on the spine and cover. If that's something that would bother you, you may not want to join.
Personally, I don't mind it – I just shelve all of my BOTM books together, and they look nice lined up. But it's all about your personal preference!
The books are also a slightly different size than most hardcover books. They also may not be as high quality as typical new-release hardcovers that have embossing, detailed endpapers, sprayed edges, etc. (Though I've never had an issue with the quality, personally – especially since they're priced lower).
Also, if you're not a fan of fiction books, Book of the Month may not be a good fit for you, since most of their selections are fiction. Same thing goes if you only read ebooks – BOTM only offers physical books and audiobooks at this time.
I hope this post helps you decide whether or not joining Book of the Month is right for you. 🙂 Either way, happy reading!
More posts you might enjoy: