If you're a fan of horror books like me, you probably know the haunted house setting is a classic. In fact, books set in haunted houses are some of my favorites! Below, I'm sharing some of the best haunted house books, from Shirley Jackson's classic The Haunting of Hill House to modern novels by beloved horror authors.
**Please note, some links on this page are affiliate links. If a purchase is made through an affiliate link, I may receive a commission at no cost to you. As an Amazon Associate, I earn from qualifying purchases. See my full disclosure policy here. Thanks for your support!
Best Books Set in Haunted Houses
Whether you read horror novels year-round or only during spooky season, haunted house books are a must-read. There's something so fascinating about creepy mansions with sordid pasts, ghostly hallways, and things that go bump in the night.
Here's my list of favorites (plus a couple books I'm excited to read), from eerie mysteries to truly terrifying tales.
The Haunting of Hill House by Shirley Jackson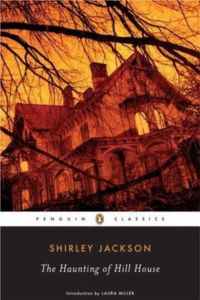 Order on Amazon | Order on Bookshop.com
One of the most well-known and classic haunted house stories, The Haunting of Hill House follows a doctor researching hauntings at a notorious mansion with a sordid past – Hill House – with a group of people he has recruited to help. But the house is more powerful than they ever imagined.
(The Netflix TV show adaptation of The Haunting of Hill House is definitely worth watching, too, though it's much different than the book!).
The September House by Carissa Orlando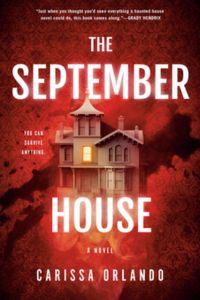 Order on Amazon | Order on Bookshop.com
Margaret has finally found her dream house – a gorgeous Victorian place at a shockingly reasonable price. But soon, she comes to find out why: every September, the house comes alive in a terrifying way, and ghosts roam free.
Despite this, Margaret is determined to stay. That is, until her husband leaves abruptly and her daughter comes to the house, unaware of the secrets it holds.
Home Before Dark by Riley Sager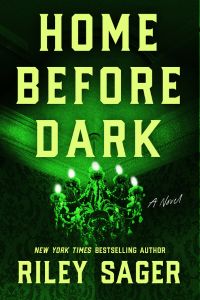 Order on Amazon | Order on Bookshop.com
As a child, Maggie Holt moved into an old estate called Baneberry Hall with her parents. Just three weeks later, they flee during the night, and her father writes a bestselling book about the horrors they supposedly encountered.
Maggie, too young to remember what happened, returns to the estate twenty five years later after her father's death. She doesn't believe what her father wrote – but soon, strange events at the house have her questioning everything.
Mexican Gothic by Silvia Moreno-Garcia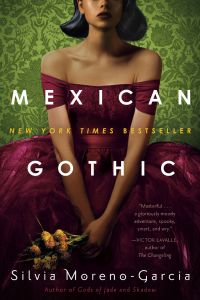 Order on Amazon | Support local bookstores
Set in 1950s Mexico, Mexican Gothic is a unique take on Daphne du Maurier's Rebecca. A debutante receives a letter from her newly-married cousin – who believes she's in danger – asking for help. She arrives at the mysterious gothic mansion, only to be greeted by even more dark secrets.
The Shining by Stephen King
Order on Amazon | Order on Bookshop.com
The Shining follows the Torrance family as they agree to take care of the remote and eerie Overlook Hotel during the off-season, with a harsh winter brewing. (The setting is not technically a house, but a haunted hotel.)
This classic horror novel will scare your socks off – especially if you watch the movie adaptation afterward!
How to Sell a Haunted House by Grady Hendrix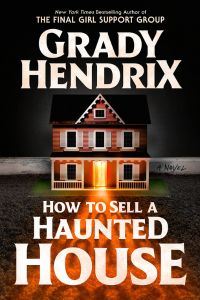 Order on Amazon | Support local bookstores
A woman returns to her childhood home in Charleston to clean up her parents' house after they pass away. But it will take much more work than she anticipated to get this house on the market – especially since the house has other plans.
(From the bestselling horror author of The Southern Book Club's Guide to Slaying Vampires – which I highly recommend!).
The Last House on Needless Street by Catriona Ward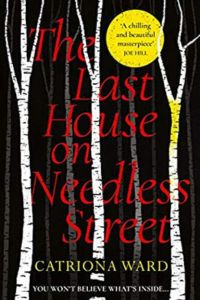 Order on Amazon | Support local bookstores
This book is eerie and strange, with a haunting atmosphere and twisty plot. It's the kind of book you know practically nothing about before you start it – and that's the best way to read it.
So I won't give a synopsis here, other than to share the tagline from Goodreads: "This is the story of a serial killer. A stolen child. Revenge. Death. And an ordinary house at the end of an ordinary street."
The Turn of the Screw by Henry James
Order on Amazon | Support local bookstores
A classic haunted house story about a woman who's hired to take care of two young children in an old mansion. But soon, the children's behavior starts to change. Is it them, or could it be the house?
What Moves the Dead by T. Kingfisher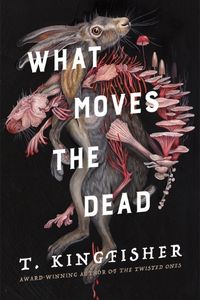 Order on Amazon | Order on Bookshop.com
What Moves The Dead is a retelling of Edgar Allan Poe's classic story, "The Fall of the House of Usher". This atmospheric gothic horror novel is complete with a decaying ancestral home, fungal growths, and strange voices at night.
Slade House by David Mitchell
Order on Amazon | Order on Bookshop.com
Slade House is a strange manor – with a door that only appears in the right conditions – where a strange brother and sister live. Once every nine years, someone is allowed in. But too late, they'll realize they can't leave.
David Mitchell is one of my favorite authors, and when it comes to genre, he's in a league all his own. Typically, he writes what I'd call literary magical realism, but this novel – his foray into horror – is absolutely worth reading.
(Although this novel works as a standalone, I recommend starting with The Bone Clocks first, if possible, since there are some connections/returning characters).
This House is Haunted by John Boyne
Order on Amazon | Order on Bookshop.com
If you've heard of John Boyne (and his wildly popular books The Heart's Invisible Furies and The Boy in the Striped Pajamas), you might be surprised to find that he's also written a gothic horror novel!
This story, reminiscent of Henry James' The Turn of the Screw, is set in the 1860s. It's about a governess who arrives at an old house to care for two children, only to find that something about the situation is very wrong.
The Good House by Tananarive Due
Order on Amazon | Order on Bookshop.com
This supernatural suspense story follows a woman who returns to her grandmother's house in the Pacific Northwest two years after a tragedy destroyed her family (at that very house).
While she was away, it seems more tragedies have struck the town. But are they just coincidences, or is something evil lurking inside her family home?
The Supernatural Enhancements by Edgar Cantero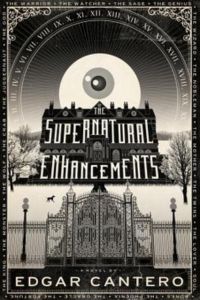 Order on Amazon | Order on Bookshop.com
An odd yet lovable twenty-something European kid inherits a fortune from a distant American relative, along with an old mansion steeped in mystery and haunted by a dark past.
He is joined by an equally eccentric companion, a bright young woman who communicates solely through writing and gestures. They explore the mansion, determined to uncover the secrets of its former owners, and stumble upon something quite unusual.
The story is composed of mostly excerpts from letters, dream journals, and sound/video recordings. There are puzzles and codes galore, making this such a fun read.
It's a bit reminiscent of The Shining and House of Leaves, but not quite as terrifying and not quite so dark. It goes off in its own direction, and has a great sense of humor!
The Sun Down Motel by Simone St. James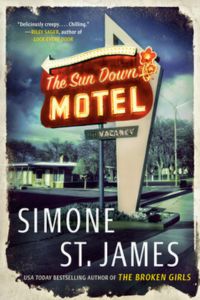 Order on Amazon | Order on Bookshop.com
A young woman travels to a small town to find out what happened to her aunt, who disappeared years ago after working the night shift at a seedy motel. She quickly finds out the town has a sordid history of suspicious murders.
This is more of a mystery/thriller than a horror novel, but it definitely still has a creep factor!
The Invited by Jennifer McMahon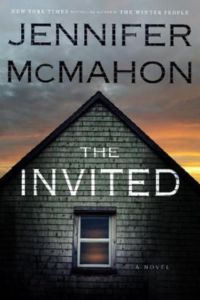 Order on Amazon | Order on Bookshop.com
Looking for a simpler life, a couple decides to build the house of their dreams in the rural woods of Vermont.
The woman, interested in history, learns about the property's past – including a local legend about the mysterious deaths of the family that lived on the land before them.
Inspired, she decides to add old materials from the property into the house they're building, without realizing she's inviting danger into her new home.
The Elementals by Michael McDowell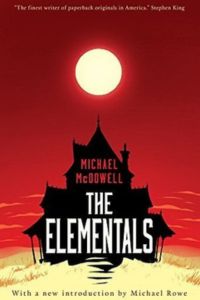 Order on Amazon | Order on Bookshop.com
Two families return to their group of Victorian summer homes off the Gulf of Alabama after a rough year. They stay in two of the houses, as usual, and leave the third empty – where it sits, decaying, waiting for them.
White Smoke by Tiffany D. Jackson
Order on Amazon | Order on Bookshop.com
Jackson takes the classic haunted house story and gives it a modern spin with this psychological thriller/horror novel.
Marigold's family moves into a beautiful house in a strangely dilapidated neighborhood. Soon, she starts to see strange things happen in the house – but nobody believes her.
The Silent Companions by Laura Purcell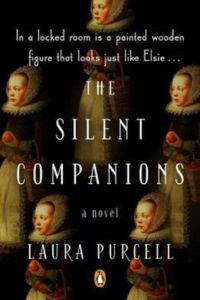 Order on Amazon | Order on Bookshop.com
If you're looking for something with a gothic/Victorian feel, try this eerie, slow-burn historical fiction story!
It features a ghostly country estate with unusual painted wooden figures, where a young widower is forced to make her home – despite her feeling that someone is watching her.
There you have it: some of my favorite haunted house books to chill your bones this spooky season. Happy reading!
More posts you might enjoy: