Aside from scary stories during spooky season, the dark academia genre might just be the quintessential genre for fall. Whether you're a fantasy reader or you're more interested in mysteries and thrillers, you'll love this list of the best dark academia books – complete with Gothic school settings, an obsession with knowledge, and deeply flawed scholarly characters.
**Please note, some links on this page are affiliate links. If a purchase is made through an affiliate link, I may receive a commission at no cost to you. As an Amazon Associate, I earn from qualifying purchases. See my full disclosure policy here. Thanks for your support!
What is dark academia?
Dark academia books have seen a rise in popularity in recent years, especially during the fall season. This genre tends to be dark and moody, set at an old college or academy with a (sometimes) sordid past and soaring, Gothic features.
Typically, the characters are scholars in pursuit of knowledge or a mastery of the arts, and things take a dark turn – whether there's a disappearance, murder, or some other ghastly occurrence.
There's nothing more atmospheric than reading a dark academia novel while curled up by the fire on a stormy fall evening. (But, they're also great to read anytime!).
Why I Love It
Dark academia is one of my favorite genres to read. Not just because I love campus settings (who doesn't?!), but also because of the mood it evokes.
Dark academia conjures the feeling of strolling through an old, grand college campus during the fall, with a slight chill in the air and leaves crunching beneath your shoes.
Of course, with these stories, there's also an eerie feeling that everything isn't quite what it seems (i.e. there's a mystery to be solved). It's somehow thrilling and cozy at the same time.
Best Mystery/Thriller Dark Academia Novels
If you prefer stories that are more grounded in the real world, these dark academia thrillers are a perfect place to start!
If We Were Villains by M.L. Rio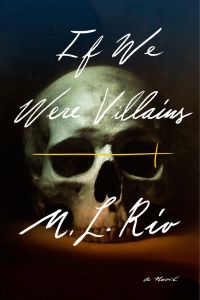 Genre: Mystery/Thriller
Order on Amazon | Order on Bookshop.com
Seven Shakespearean theater students at an elite arts college live together in a dramatic off-campus home, isolated from the outside world. In their fourth year of school, the typical roles they play are shifted, causing rivalries to ensue. And soon, someone turns up dead.
Truly Devious by Maureen Johnson
Genre: YA Mystery/Thriller
Order on Amazon | Order on Bookshop.com
When true crime lover Stevie Bell starts her first year at the mysterious Ellingham Academy (a private school in Vermont), she's determined to solve the school's decades-old cold case. Years ago, the wife and daughter of the school's founder were kidnapped, and it appears the perpetrator has returned.
If you love puzzles and riddles, this is a perfect series to read!
The Secret History by Donna Tartt
Genre: Literary Mystery/Thriller
Order on Amazon | Order on Bookshop.com
This popular dark academia novel – written by the bestselling author of The Goldfinch – follows a group of Classics scholars at an elite New England college seek a new way of living beyond the boundaries of normal life. Guided by their professor, they become more and more emboldened by their experimentation – which leads them down a dangerous path.
The Secret History likely inspired the modern dark academia genre (and its subsequent popularity). This is such a unique and fascinating read that completely drew me in. Highly recommended (along with The Goldfinch, which isn't dark academia but IS a beautifully-written book)!
In My Dreams I Hold a Knife by Ashley Winstead
Genre: Mystery/Thriller
Order on Amazon | Order on Bookshop.com
A woman returns to her elite Southern college for a 10-year reunion, reconnecting with her tight-knit group of friends from all those years ago. But they each have dark secrets to hide, and being at the college brings back memories of their friend's unsolved murder.
Was one of them involved? Someone certainly thinks so, and they'll do anything to find out the truth.
This thriller is compulsively readable, and one of the best I've read in years! If you love mysteries set on college campuses, this is a must-read.
Here are all of Ashley Winstead's books in order!
They Never Learn by Layne Fargo
Genre: Mystery/Thriller
Order on Amazon | Support local bookstores
Scarlett Clark is an English professor at a small college in Pennsylvania. She's dedicated her life to stopping bad men who get away with things they shouldn't. But when someone starts to put the pieces together, Scarlett's meticulous planning may not be enough to save her.
This book is sort of like a feminist twist on Dexter – so compulsive, edgy, and dark. And, it got bonus points for being set at a college on the East Coast, with an autumn chill in the air and fallen leaves on the streets.
The Maidens by Alex Michaelides
Genre: Mystery/Thriller
Order on Amazon | Support local bookstores
From the author of the blockbuster hit The Silent Patient comes a new thriller about a handsome Greek Tragedy professor at Cambridge University, who's also a leader of a secret society of women known as The Maidens. But one woman believe's he's a killer, and she's determined to prove it – no matter what it takes.
Ace of Spades by Faridah Àbíké-Íyímídé
Genre: YA Mystery/Thriller
Order on Amazon | Order on Bookshop.com
A shocking thriller that sheds light on institutionalized racism, Ace of Spades follows two talented students at a private school who have secrets to hide – and someone is determined to reveal them.
Ghosts of Harvard by Francesca Serritella
Genre: Mystery/Thriller
Order on Amazon | Support local bookstores
Cadence Archer's brother, Eric, developed paranoid schizophrenia and tragically took his own life at Harvard. Now, a year later, she arrives on campus as a freshman, determined to find out exactly what happened. But when she starts hearing voices, too, she worries she might be heading down the same path.
Best Fantasy Dark Academia Novels
If you love your dark academia with a dose of fantasy and magic, these are books perfect for your next read.
For a similar reading vibe, check out these Gothic fantasy novels and these modern Gothic novels (non-fantasy)!
Ninth House by Leigh Bardugo
Genre: Urban Fantasy/Mystery/Paranormal
Order on Amazon | Order on Bookshop.com
After a traumatizing incident, high school dropout Alex Stern is mysteriously offered a full ride to Yale University. In return, she's required to join a secret society that's in charge of keeping Yale's other secret societies (and their occult activities) in check. But soon, she realizes there's something dangerous and sinister at play, and it might be up to her to stop it.
There's a sequel to this novel called Hell Bent, which is also worth reading! I love this series and highly recommend it. It's really unique, with an incredible setting and characters you can't help but love. (Check out this post for all of Leigh Bardugo's books in order!).
A Deadly Education by Naomi Novik
Genre: YA Fantasy
Order on Amazon | Order on Bookshop.com
Set in a dangerous school for magically-gifted teens, the most important goal for students isn't to get good grades – it's to make it to graduation. A girl with a hidden – and deadly – dark power enrolls at the school, and is drawn to discover its many secrets.
The Atlas Six by Olivie Blake
Genre: Urban Fantasy
Order on Amazon | Order on Bookshop.com
This fantasy novel is loosely inspired by the Great Library of Alexandria in Egypt, which was one of the most significant libraries of the ancient world (until a devastating fire wiped out a massive amount of books and knowledge).
In this book, a group of young scholars with magical powers join a secret society that pledges to protect the knowledge of magic. Their powers range from manipulating the physical world to reading (and manipulating) people's minds and emotions.
The recruits have one year until initiation, where they must work together to survive. But in the end, only five will be initiated – and the sixth will be eliminated.
Babel by R.F. Kuang
Genre: Historical Fantasy
Order on Amazon | Order on Bookshop.com
This epic historical fantasy novel (set in the early 1800s) follows a group of students at Oxford University's (fictional) Royal Institute of Translation—also known as Babel, a center for translation and magic.
There, a young trainee finds himself at a crossroads between the pursuit of vast knowledge, and a secret society aiming to cut off Britain's immense power and stop its thirst for imperial expansion.
Whether dark academia is your favorite genre or it's brand new to you, I hope you love these dark academia books. Happy reading!
More posts you might like: