Whenever cooler weather rolls around, it makes me want to wrap myself up in a blanket and read in front of a crackling fireplace. While the fireplace isn't usually an option, ASMR videos – like reading ambience rooms – are the next best thing!
Below, I'm sharing some favorites, with a variety of settings and vibes – from ancient library rooms with rain sounds to cozy winter cabins with roaring fireplaces and snowfall. Either way, they're a fabulous way to play in the background and set your reading mood!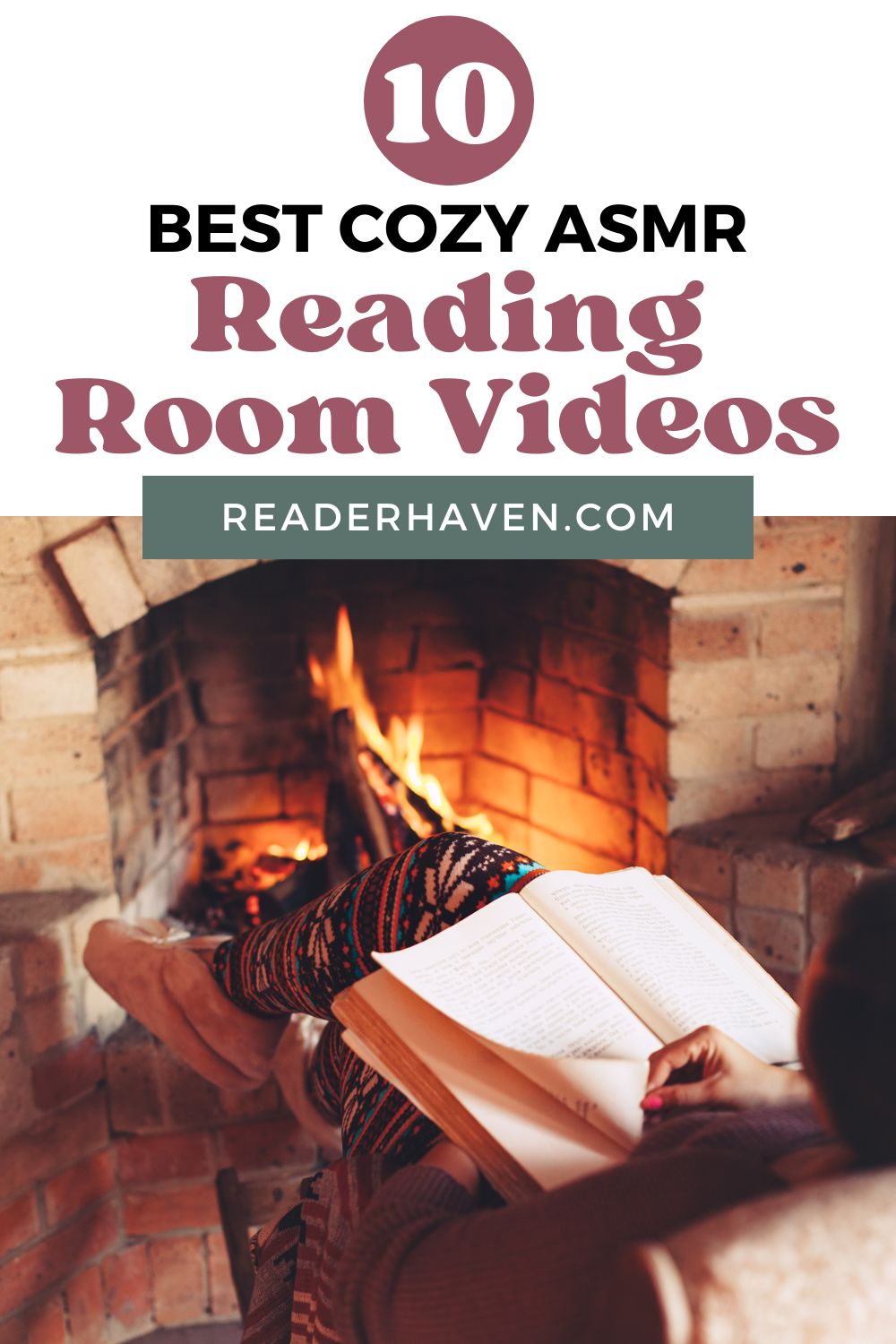 What is ASMR?
ASMR stand for autonomous sensory meridian response. Essentially, it's the warm and tingling feeling you get in response to a positive stimuli, like a sound.
Sounds that comfort and relax you can cause this type of response, such as the patter of rain, pages turning, or a crackling fire.
For many readers, cozy reading rooms (videos) act in this way, and are the perfect background noise and ambience from settling in with a book. They also include a visual stimuli (the setting of the video).
What is a reading room video?
These are videos you stream in the background while you're reading, to enhance your reading experience.
They have a variety of settings – from outside in nature to a log cabin to a gothic-style library, and beyond.
These relaxing videos can help set a particular mood or make you feel extra cozy. They're especially perfect for the fall and winter seasons.
How to Stream ASMR Reading Videos
The best place to find ASMR videos is on YouTube!
There are multiple ways to stream these reading ambience videos. If you have a smart TV or a modern gaming console (like a Playstation 4 or 5, Nintendo Switch, or Xbox One), just download the YouTube app and stream the video through that. (Many smart TVs will automatically have the YouTube app installed.)
You can also use like a Chromecast, Amazon Fire TV Stick, or Roku to play the videos on your TV directly from your smartphone or computer. Just plug the Chromecast (or other device) into an HDMI port on your TV, start the video on your phone or tablet's YouTube app (or in a Google Chrome browser if using a computer), and click the icon to "cast" the video to your TV screen.
Of course, you can also go old-school and just play the video directly on your laptop in the background. Nothing wrong with that!
Best Cozy Reading Ambience Rooms (Videos)
Now, on to the list! Here are some wonderful ASMR reading ambience videos, with a variety of sounds and backgrounds.
Grab a book, a comfy blanket, your favorite reading snacks, a warm beverage, your pet or child, and whatever else your heart desires. Settle into your favorite reading chair, play your favorite ASMR video, and relax into your reading experience!
If you want to feel like you're spending time in nature (without actually feeling the chill of it), this ASMR video is perfect. It's like camping…sort of. 😉
Is there anything better for a bibliophile than being surrounded by a massive library? This is a vibe I can always get behind. (It's especially perfect for reading dark academia novels!).
Harry Potter fans: immerse yourself in a study session in this ASMR room inspired by the Hogwarts library! This video is complete with rain and soft page-turning sounds.
Imagine the warmth of a roaring fireplace in a room surrounded with floor-to-ceiling windows, as snow falls around you. It's like being in the perfect winter cabin without having to travel!
All my fellow LOTR fans: kick back and relax with your book while enjoying views inspired by Middle Earth and listening to music inspired by the movies.
Feel one with nature in a cabin in the forest, surrounded by birds chirping and water lapping at the nearby shore.
Transport yourself back to the late 1800s with this ASMR video inspired by Sherlock Holmes' place, 221B Baker Street in London. Includes ambient sounds and music!
Have you ever wanted a big wraparound porch filled with flower pots and comforting rocking chairs? Then you'll love this video, especially with the relaxing rain sounds.
Spend a fall evening cozied up with the sounds of rain and a crackling fireplace surrounding you.
This gorgeously-created depiction of the Great Hall at Hogwarts during Christmastime is something to behold. Includes music from the movies!
I hope these videos bring you extra comfort and coziness during these colder months. Enjoy, and happy reading!
More reading-related posts you might enjoy: