Stephen King is one of my favorite authors of all time, and I know I'm not alone in that sentiment. Not only are his stories incredibly imaginative, but he also manages to completely immerse you in his characters' lives, until you don't even realize that you're reading a story.
If you haven't read his short stories – or you're trying to figure out which collection to pick up next – you've come to the right place. Here's a guide to all of Stephen King's short story collections, plus details on the best TV show and movie adaptations of those stories. (Perfect for watching during spooky season, or really anytime!).
**Please note, some links on this page are affiliate links. If a purchase is made through an affiliate link, I may receive a commission at no cost to you. As an Amazon Associate, I earn from qualifying purchases. See my full disclosure policy here. Thanks for your support!
Who is Stephen King?
Stephen King is one of the most popular, prolific, and best writers of our time. Some might assume he only writes horror novels, because that's what he's most known for, but his range is actually quite far-reaching when it comes to genre.
In fact, he's written novels and short stories in a variety of genres, including (but not limited to) horror, fantasy, science fiction, magical realism, and general fiction.
His works have won numerous awards and have been adapted into countless TV shows, miniseries, and movies.
Not a fan of horror? Check out this post for Stephen King's best non-horror mysteries and thrillers.
Stephen King's Short Story Collections In Order
King's writing shines just as much in short story form as it does in novel form. It grabs ahold of you and doesn't let go until the final page.
No matter what genre he's writing in, his stories are compelling and emotionally-charged. Some of his stories can scare like no other, but they're also packed with heart at their core.
Below, I'm sharing all of Stephen King's short story collections in order of publication date, plus some standout stories and/or popular TV and movie adaptations from those stories.
Night Shift
Order on Amazon | Order on Bookshop.com
Stephen King's first short story collection is also one of his most beloved, with many stories being adapted into movies.
Two of the stories, Quitters, Inc. and The Ledge, were adapted into a 1985 movie called Cat's Eye starring Drew Barrymore (as a child actress). It's definitely worth watching!
Additionally, Children of the Corn and Sometimes They Come Back were both adapted into movies, in 1984 and 1991, respectively.
In this collection, there are also two stories set in the same world as his popular novel, Salem's Lot.
Publication year: 1978
Different Seasons
Order on Amazon | Order on Bookshop.com
If you have to choose just one King collection to read, read this one. It contains some of his most beloved and well-known novellas, including Rita Hayworth and the Shawshank Redemption and The Body.
Rita Hayworth and the Shawshank Redemption is a must-read story, and it was the inspiration for the Best Picture Academy Award nominated movie, The Shawshank Redemption.
The Body was adapted into the 1986 film Stand By Me, with Wil Wheaton, River Phoenix, Corey Feldman, Jerry O'Connell, and Kiefer Sutherland. It's a nostalgic coming-of-age story about a group of boys during one summer in Castle Rock, Oregon.
Stand By Me is one of my all-time favorite King adaptations, and is a great choice if you're not in the mood for something scary.
Publication year: 1982
Skeleton Crew
Order on Amazon | Order on Bookshop.com
This is a perfect read for spooky season, since some of the stories take place during Halloween.
Skeleton Crew also includes the novella, The Mist – which is a well-known (yet polarizing) movie adaptation.
Also, if you've read a decent amount of Stephen King stories, you'll probably recognize his often-used fictional town setting: Castle Rock. Some of the stories in this collection take place there, too!
Publication year: 1985
Four Past Midnight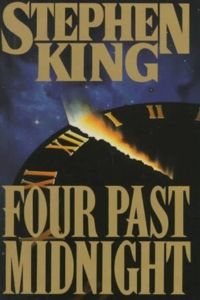 Order on Amazon | Order on Bookshop.com
Like a couple of his other collections, this one consists solely of novellas (longer short stories).
One of the novellas (Secret Window, Secret Garden) is the basis for one of King's most well-known movie adaptations (and one of my favorites): Secret Window.
The 2004 movie – about a bestselling writer who's stalked by someone accusing him of plagiarism – stars Johnny Depp and John Torturro.
It's suspenseful and twisty, and follows a common theme in many of Stephen King's stories: characters who are authors, and the struggles that come along with being a writer.
Publication year: 1990
Nightmares & Dreamscapes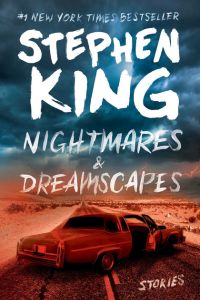 Order on Amazon | Order on Bookshop.com
This collection includes a LOT of stories, many of which are quite short – though the collection itself is over 900 pages long.
While none of the stories from this collection have garnered blockbuster adaptations (yet), some of them were adapted into a television anthology series called Nightmares & Dreamscapes: From the Stories of Stephen King.
Publication year: 1993
Everything's Eventual: 14 Dark Tales
Order on Amazon | Order on Bookshop.com
Everything's Eventual is one of my favorite story collections so far (though I'm still working my way through them all).
If you're a fan of King's Dark Tower series, you'll find a couple gems in this collection with strong ties to that world.
This also includes the story 1408, which was adapted into a popular movie starring John Cusack and Samuel L. Jackson. It's about a skeptical paranormal investigator who checks in to hotel room that's said to be haunted.
Publication year: 2002
Just After Sunset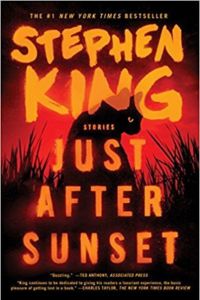 Order on Amazon | Order on Bookshop.com
While this may not be King's most popular collection, there are definitely some stand-out stories that make it worth reading!
The Gingerbread Girl and Rest Stop in particular are especially well-liked, plus a story titled N. that has strong Lovecraftian vibes.
Publication year: 2008
Full Dark, No Stars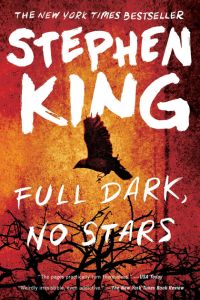 Order on Amazon | Order on Bookshop.com
Here's another collection of longer stories – novellas – where King explores the dark side of humanity.
The novella 1922 inspired the 2017 Netflix movie of the same name, about a farmer in the 1920s who has sinister plans for his wife.
Publication year: 2011
The Bazaar of Bad Dreams
Order on Amazon | Order on Bookshop.com
One of his newer short story collections, The Bazaar of Bad Dreams features stories that are somewhat tied together by a thread of similar themes – morality (and its many shades of gray), the afterlife, and regret.
Publication year: 2015
If It Bleeds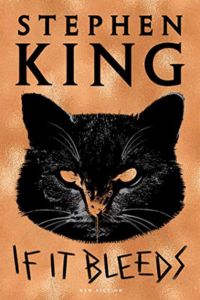 Order on Amazon | Support local bookstores
Synopsis: This collection of four novellas by Stephen King contains the novella If It Bleeds, a standalone sequel to The Outsider (and part of the Holly Gibney series). The story follows Holly Gibney as she investigates her first solo case.
The three other novellas/stories from this collection have all been adapted into film (or optioned for film):
Mr. Harrigan's Phone was adapted by Ryan Murphy, Netflix, and Blumhouse. It was released in 2022 as a full-length movie starring Jaeden Martell and Donald Sutherland.
Rat was optioned by Ben Stiller.
The Life of Chuck was optioned by Darren Aronofsky.
Publication year: 2020
Whether you're a constant reader (i.e. Stephen King fan) or you're new to his books, I hope you get a chance to read some of these stories!
Related posts you might enjoy: