As much as I love to read, I'll be the first to admit there are times when I just don't feel like it. It happens to us all. Fortunately, there are lots of fun bookish activities you can do at home!
All of these activities are reading-adjacent, which means they're perfect for bibliophiles who are in a reading slump or aren't in the mood to read.
**Please note, some links on this page are affiliate links. If a purchase is made through an affiliate link, I may receive a commission at no cost to you. As an Amazon Associate, I earn from qualifying purchases. See my full disclosure policy here. Thanks for your support!
Bookish Things to Do at Home
Whether you have a full day to spend on all things bookish or you only have a fifteen-minute window to spare, these bookish activities are perfect for readers.
They're all low-key and relaxing, and related to reading in some way!
1. Color in a Literary-Inspired Coloring Book
Coloring isn't just for kids! In fact, it does wonders for relaxing the mind. You can use anything you have on hand – colored pencils, markers, even crayons!
And there are some GORGEOUS, literary-inspired adult coloring books out there, from Harry Potter coloring books to secret garden illustrations to Jane Austen inspired coloring pages.
Here's some inspiration to get you started:
I have the Harry Potter one and I love it. You can also get this Jane Austen-inspired coloring book with removable coloring plates!
Coloring is a great option for something you can do while watching TV at the same time, if you prefer to multitask!
2. Organize Your Bookshelves
Just being around books makes me happy. As does organizing them! Some shelves I organize by color, some by type, and others by how soon I want to read each book (i.e. based on my TBR list).
If you haven't gotten a chance to organize your bookshelves the way you like them yet (or you think it's time for a change), then this is the perfect time to do it! You might even find a book you forgot about, or an old favorite to re-read.
3. Write Book Reviews
Just because you don't feel like reading doesn't mean you don't feel like talking about books!
I like to use this time to write reviews of books I've read – especially review copies I've received from publishers.
If you're a Goodreads member, this is a perfect place to share about your favorite books. Just post your review, or maybe comment on someone else's. (Let's be friends on Goodreads!)
——-> Related post: What is Goodreads (+ 9 Reasons You Should Join)
4. Do a Bookish Puzzle
Puzzles are all the rage these days, and for good reason! They're a great way to keep your mind sharp while still allowing for relaxation.
There are some really cool literary jigsaw puzzles out there, too, with images of beautiful bookshelves, cozy reading nooks, settings from beloved classic books, and lots more.
Here are some ideas to get you started:
If you haven't heard of it, Bookstagram is a community of bibliophiles on Instagram. We share photos of books, join challenges, and chat about our favorite reads!
It's essentially a giant virtual book club for all things bookish. It's the best place for finding your people – the ones who totally understand your obsession with books. 🙂
Here's my post on how to start a Bookstagram for more information. (Let's be friends on Bookstagram! You can find me here.)
6. Organize Your Goodreads Shelves
I don't know about you, but I go wild on Goodreads. I love being able to keep track of all the books I want to read, and save all my favorite books onto a shelf. (If you couldn't tell, I'm a sucker for book lists!)
Goodreads is a perfect place to find new books to read and connect with fellow book lovers. Maybe you need to add some books to your TBR list, or maybe you need to refine your list. Either way, you can do it on the app or on your computer.
And if you don't have an account yet, here are 8 reasons you need to join Goodreads!
7. Watch Book-to-Film/TV Adaptations
With book-to-film adaptations, you can still experience your favorite stories, just through a different lens!
One of my favorite bookish activities when I don't feel like reading is to watch a movie or TV show based on a book I love. It's so much fun to see our favorite stories come to life on the screen.
(Here are some exciting fall 2023 book-to-film adaptations to check out!).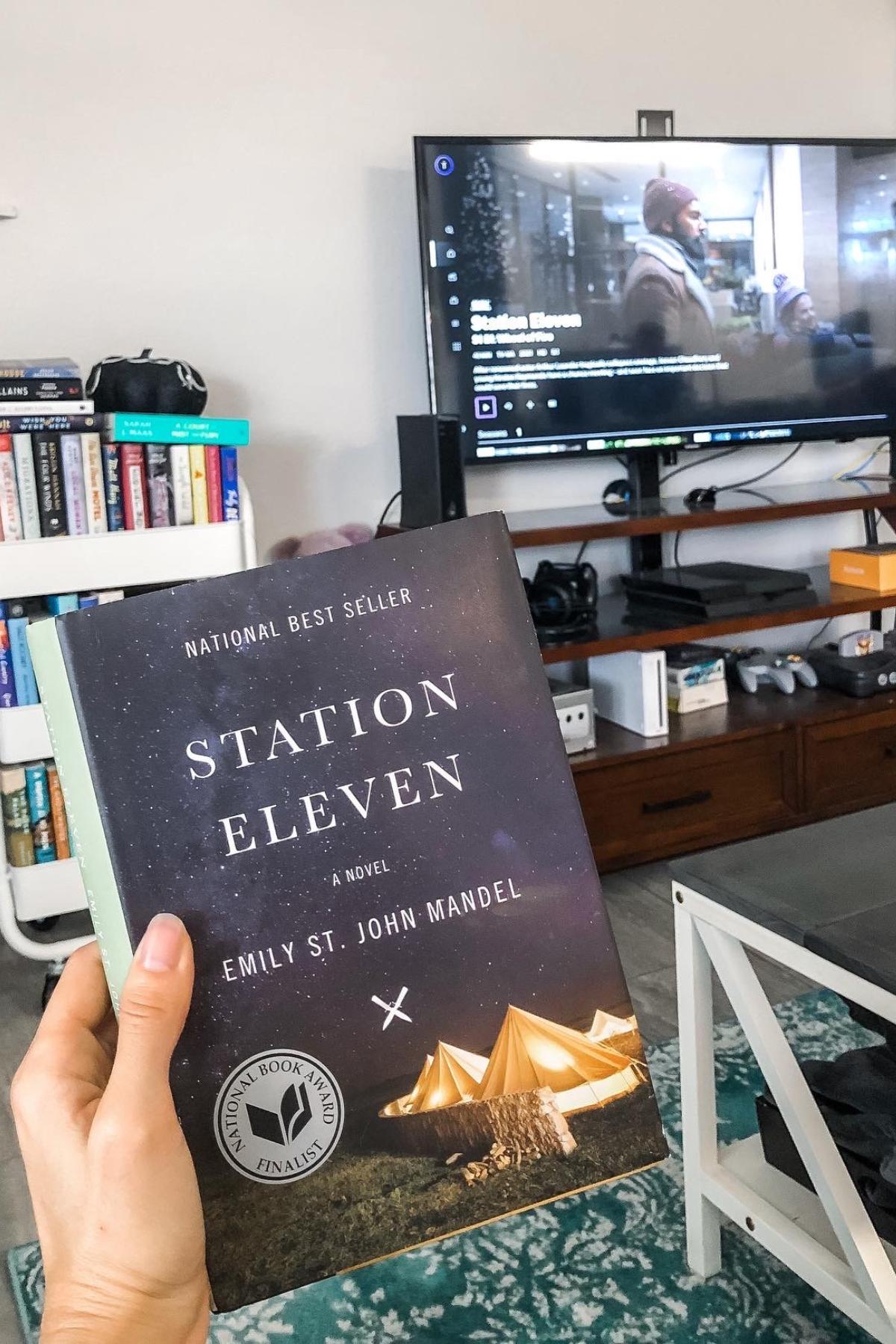 Here are some classics and new favorites:
Clueless (a modern take on Jane Austen's Emma)
Stand by Me (based on the short story The Body by Stephen King)
Anne with an E (Anne of Green Gables by L.M. Montgomery)
The Lord of the Rings trilogy (J.R.R. Tolkien)
The Summer I Turned Pretty (Jenny Han)
Killing Eve (Luke Jennings)
Little Fires Everywhere (Celeste Ng)
The Haunting of Hill House (Shirley Jackson)
8. Start a Journal
Journals – especially reading journals – are very popular for a reason! They give you a place to write down your thoughts, scrapbook, or doodle.
Even if you're in a season of you're life where you aren't reading much, you can still journal about your favorite books and authors, books you want to read, etc.
Bullet journals in particular are huge these days. You can print off pages to fill in, or draw your own!
Here are some cool literary-inspired journals for inspiration:
9. Join a Virtual Book Event
With the recent rise of virtual events, publishers are looking to the internet to share book events highlighting their books & authors.
On Instagram, many publishers host Instagram lives with author Q&As. Virtual book festivals have replaced some in-person ones. Keep an eye out on social media or your favorite publisher's website for announcements.
10. Decorate Your Book Cart or Bookshelf
Dress up your book cart (or bookshelf) with fun additions – like bookish stickers, fairy lights, wallpaper/lining paper, magnets, or whatever else you like!
This is a fun way to personalize your reading space. Show off your favorite fandoms, or get inspired by the current season – it's totally up to you.
And if you don't have a book cart yet, I highly recommend it. It's my favorite way to keep track of which books I want to read next. Here's the rolling book cart I have – I love it!
(If you have extra stickers, you can decorate your Kindle or e-reader, too!).
I hope this list of bookish activities to do at home has inspired you – at least until you snap out of your reading slump. 🙂
Related posts you might like: