Curious what a book TBR list is, or looking for some inspiration for how to make and organize one? Here's everything you need to know about making a personal reading list, types of TBR lists, and how to organize them.
As a bibliophile, I personally find it so fun to make and organize book lists – especially for books I'm excited to read. I've kept a TBR list (multiple, in fact) for the past decade, and I'm happy to share my tips and what I've learned!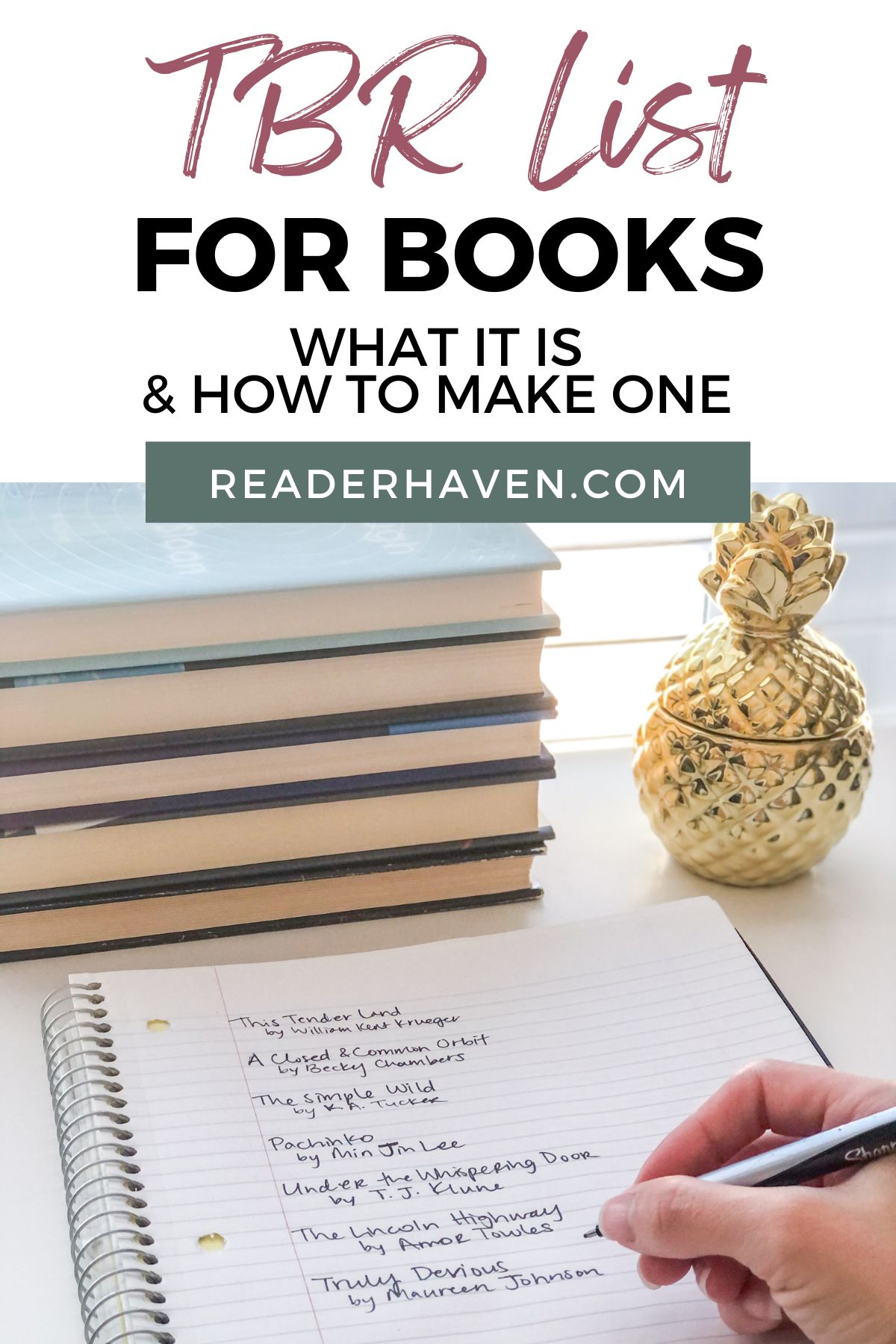 What's a TBR list?
A TBR list, also known as a to-be-read list, is a list of books that you want to read. This personal reading list can include books you own, books you want to buy and read, and/or maybe all the books you're hoping to read in the next year (or decade!). The specifics are entirely up to you!
Whether you're trying to reach a reading goal you've set for yourself, or you're just trying to decide what to read next, having a TBR list is a great way to keep up your reading habit.
I love keeping a TBR list so I can make to sure keep track of any books that sound interesting to me.
In fact, I have two types of TBR lists saved in my Goodreads account: a TBR shortlist, and a TBR longlist. (Also, here's why you should join Goodreads if you haven't already!)
Essentially, my TBR shortlist is a shorter (obviously) list of books I want to read ASAP – maybe in the coming year or two, for example.
On the other hand, I keep a longlist for books that have peaked my interest and that I may want to read at some point in my lifetime.
On top of that, I have a book cart where I keep my most-anticipated physical books, so I see them all the time. This makes it much easier for me to pick my next read!
Physical TBR Pile vs. Digital TBR List
You can keep a TBR book list in two ways: either digitally, in an app like Goodreads (or even the Notes app on your phone), or physically, with a pile or shelf of physical books (or with a list on paper).
Personally, I do both, but it's completely up to you. You might have a small enough TBR pile to keep them all on one shelf, or you might want to expand your list to Goodreads so you can include books you don't own yet.
How to Make a TBR List
When it comes to making a list, I'm going to go over how to make it in Goodreads, because I think having a physical TBR is pretty self-explanatory!
The Goodreads app has a built-in 'Want to Read' shelf. To add a book to that shelf, start by searching for a book title or author. Click on that book.
Below the book's title, there should be a green button that says 'Want to Read'. (The button will be grey – but still clickable – if you've already added that book to your Want to Read list.)
Continue doing that for all the books you want to add!
You can also create your own digital "shelves" on your Goodreads account (for example, a TBR shortlist shelf).
Just select the 'create a new shelf' option that shows up at the bottom of the list when you click the 'Want to Read' button on a book (screenshot above). Feel free to label it whatever you want!
How do you decide which books to add to your list?
Again, this is up to you. You might want to start by adding books by your favorite authors (that you haven't read yet), books your book club is planning to read soon, and/or books you already own.
Here's something that helps me: when you're looking at a book cover or reading a synopsis, see if it really grabs your attention. Think about whether you want to buy that book, or at least check it out from the library. If the answer is yes, that's a good sign that a book belongs on your to be read list!
How to Organize Your TBR List
You can organize your to be read list any way you like, such as:
sort the books in the order you want to read them (specifically or generally)
keep a shortlist and a longlist (like I do)
separate the list into books you already own and books you don't own yet
sort it by Goodreads rating or release date/year
You can even organize your list by genre, or by standalone books versus series.
In fact, if you use Goodreads to organize your TBR list, you can sort by tons of different factors:
It's also important to go through and cull your list occasionally (especially if it's getting out of hand, like mine!). Every so often, go through your list and remove books you no longer want to read.
This might include books you couldn't finish, new releases that didn't get good reviews, or just books you decided you weren't interested in anymore. Your reading interests might change, and there's nothing wrong with that!
What's a TBR jar?
A TBR jar is a fun way to help you decide what to read next.
To make a TBR jar, you write down all the books on your to be read list on paper. Then, cut out each book title into a small scrap of paper, fold them, and place them all in a jar.
When you're ready to start a new book, just reach into the jar and pull out a piece of paper. Whichever book is written on the paper is the one you read next!
It's a fun way to mix things up, especially if you're having trouble picking your next read. 🙂
One last caveat: don't feel like you have to be tied to your TBR list! Your reading life can absolutely be spontaneous. A TBR list should just be there to provide inspiration for your next read.
I hope you found this guide helpful – enjoy making (& organizing) your list!
More posts about reading & books you might enjoy: