Looking for some inspiration for what to post on Bookstagram? I've got you covered. Here are lots of bookstagram post ideas and caption ideas to spark your creativity!
I've been part of the Bookstagram community for over 5 years now, which means I've posted quite a lot of bookish photos. So I've put together a list of some of my favorite types of posts to share, along with inspiration from awesome content I've seen others create.
What is Bookstagram?
First off, if you're new to Bookstagram, you might be wondering what the heck it is! Bookstagram is a community of book lovers on Instagram, all sharing bookish photos and other forms of bookish content (book reviews, book recommendations, etc.).
Some Bookstagrammers choose to solely share book-related content, whereas others share a mix of lifestyle content and other hobbies on top of their love for reading. There's no right way to do Bookstagram – it's all about what you want to create!
For more, check out this post on how to start a bookstagram, plus bookstagram terms & lingo to know.
Bookstagram Ideas for Posts
Your Bookstagram feed is your own personal vision board for your bookish life. It's a collection that represents your interests, creativity, and unique voice.
There are two elements to a Bookstagram post: the photo and the caption. (Often, the topic for both will be the same, but it doesn't have to be.) I've broken down the list of ideas below into two sections to include both elements.
Keep in mind: the Bookstagram post ideas below are just a starting point. Take them and put your own unique spin on them!
Bookstagram Photo Ideas
Here's some inspiration for bookish Instagram photos to share, whether you're at home or on the go:
Lifestyle shots: an area of your home, like your reading nook.
Styled flat-lays: books surrounded by props, like a coffee cup or cozy sweater. (Check out this post for tons of Bookstagram prop ideas!)
Modeled shots: photos of yourself, another person, or your pets (with or without books, or with your bookshelf in the background).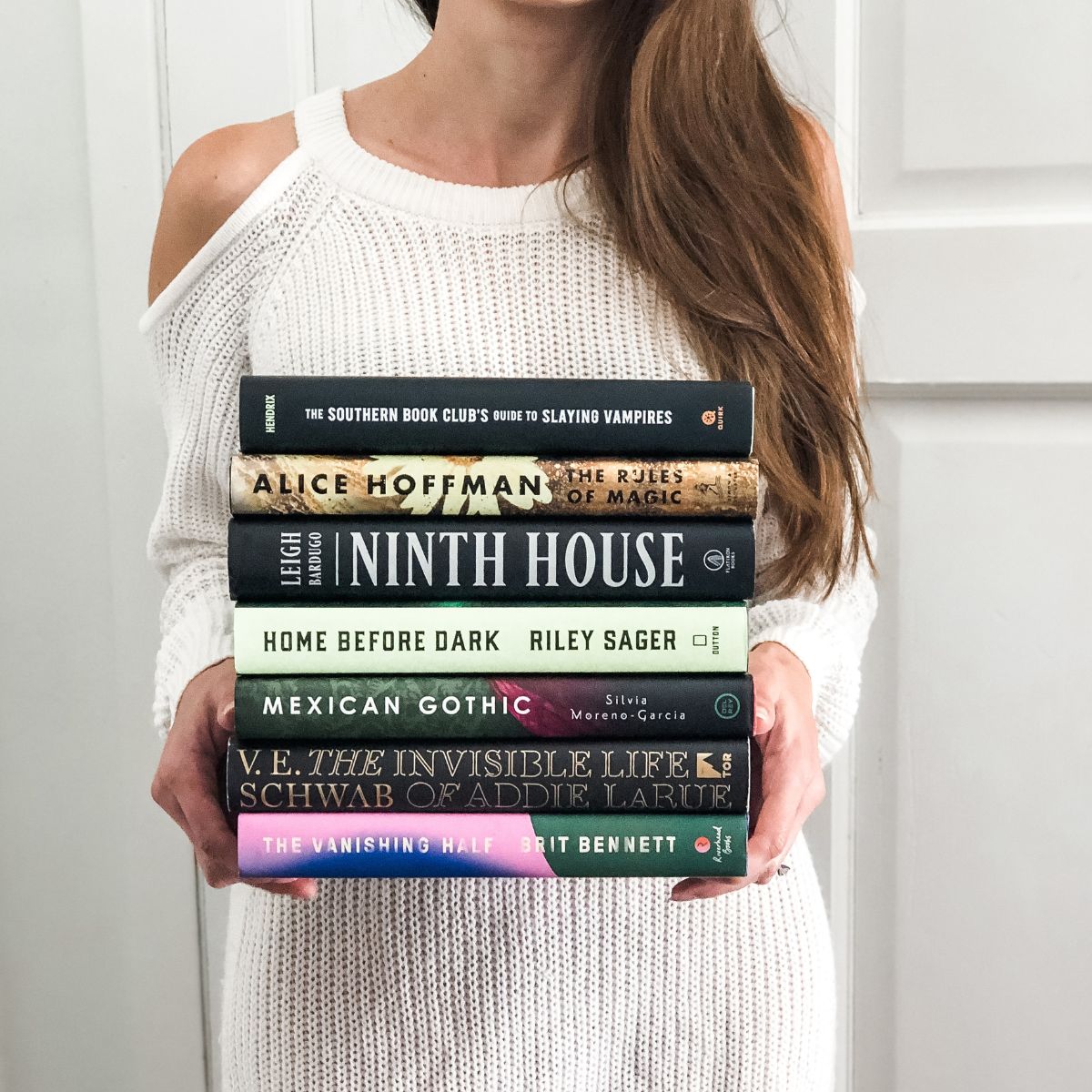 Behind-the-scenes: a less-styled, more vulnerable photo about an aspect of your life.
Meet the Bookstagrammer: when you first join Bookstagram, or if you haven't introduced yourself in a while, post a photo of yourself and share something about your life. Often, people will post 5-10 facts about themselves, or discuss their favorite books and/or authors. (Use the hashtag #meetthebookstagrammer).
Spell Your Name With Books: put together a stack of books whose titles have letters that spell your name. (Use the hashtag #spellyournamewithbooks).
Shelfie: take some photos of each of your bookshelves (because let's be real, one's never enough). (Use hashtag #shelfie).
Book Haul: did you buy some books recently? Capture that bliss with a photo. (Use hashtag #bookhaul).
TBR Pile/List: share some books you're hoping to read in the next week, month, or year.
In Your Bag: show your audience which books (and other items) you're carrying around in your bag. Bonus points if your bag has a bookish quote on it. (Use hashtag #inmybag).
Book and Beans (or Tea): nothing pairs more perfectly with a book than a comforting beverage, like tea or coffee. (Use hashtag #booksandbeans or #booksandtea).
Book Club Behind the Scenes: share photos of your book club meeting, or the book you're reading that month.
Your Book Cart: everybody loves a book cart! Show your followers how you organize and/or decorate your book cart.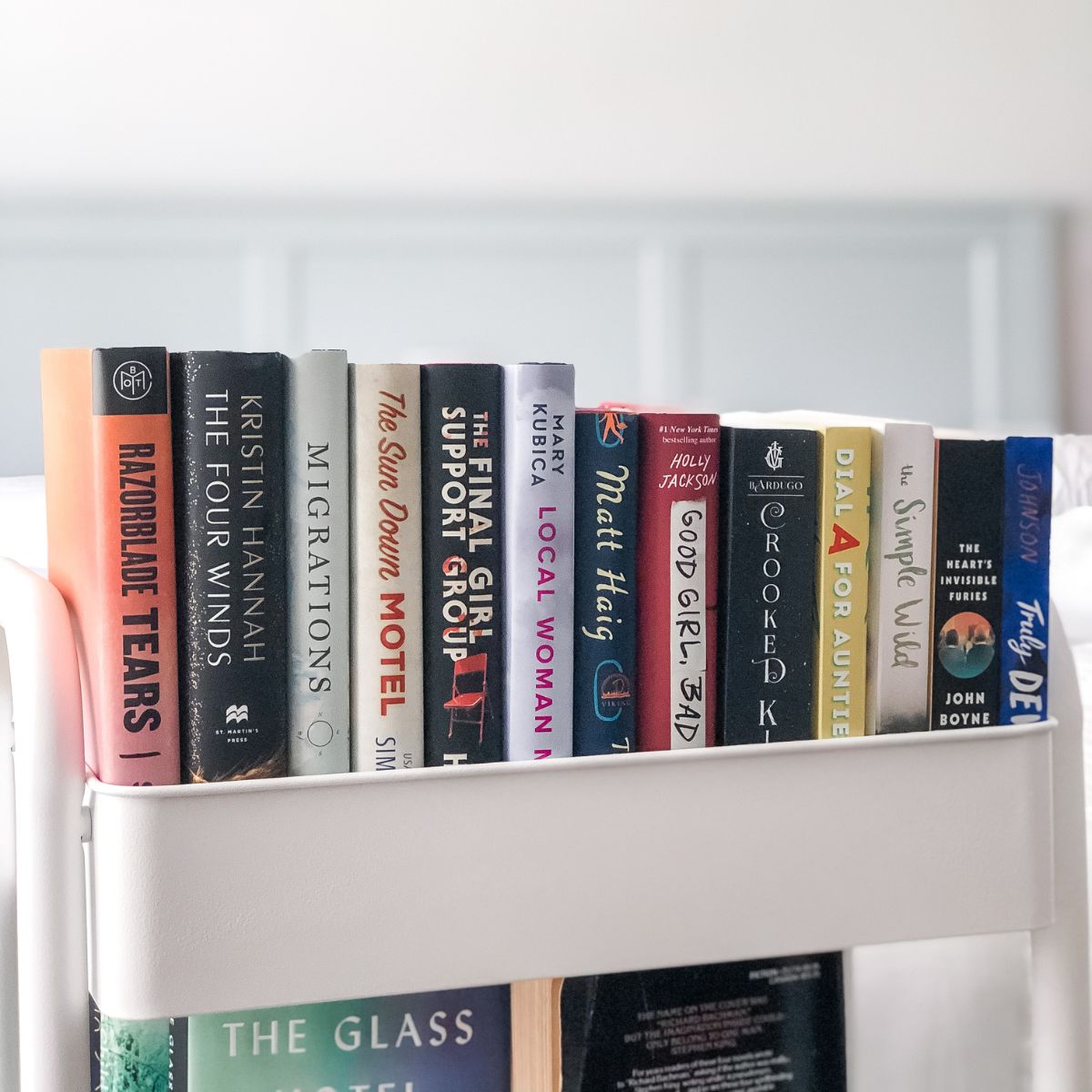 Favorite Reading Snack: do you love munching on popcorn while you read, or maybe you're more of a chocolate lover? Share it!
Reading View: snap a photo of the view from your reading spot (in your home or outside!).
Favorite Books: share a stack of your favorite books, book series, or books by your favorite authors.
Favorite Book Covers: spotlight some beautiful book covers you love.
Last, Current, Next: share your previous read, the book you're reading now, and the book you hope to read next all in one photo.
Monthly Wrap-Up: put together all the books you read in the past month, and share what you rated each book.
"Choose My Next Read": let your audience pick your next book! Give them some options, either a few books or an entire stack to choose from.
Travel/Vacation: take photos of your books on vacation, whether you're on a plane, reading by the fire in a cozy cottage, or at the beach.
Food/Drink Pairings: is there a specific drink or type of food that pairs well with a book you're reading? That's a great idea for a Bookstagram photo!
Remember: your feed should reflect you. Don't feel like you need to change who you are just because someone else takes photos a certain way.
For more content ideas, you can join a photo challenge (search the hashtag #bookphotochallenge on Instagram to find them) or draw an idea from someone else's past question of the day (just don't copy!).
Check out this post for Bookstagram photography tips!
Bookstagram Caption Ideas
When it comes to Bookstagram captions, the length of your captions depends on your personal style.
You don't need to write a novel. Sometimes, just a couple of sentences will suffice. If you love thinking of hilarious one-liners, go for it! Just know that longer content is often better for connecting and engaging.
Try sprinkling in some more personal, long-form content occasionally. Storytelling captivates!
And now, some inspiration for what to include in your Instagram caption:
Book List: share a list of books you love, or that all fit a certain topic or theme.
Book Review & Rating: write a book review for a recent book you've read, including what you rated it (if you want).
Reading Tips: have a good trick for reading more books, or a favorite bookish accessory? Share it!
Book Recommendations: everybody loves book recommendations! You can share general recommendations for books you loved, or do "read this if you loved ___ (book)".
Bookstagram Tips: help other Bookstagrammers by sharing tips and tricks you've learned!
Favorite Bookish Quotes: share a quote you love from a favorite book, or your current read.
Question of the Day (QOTD): adding a question in your post is a surefire way to encourage engagement. People love to express their opinions. In fact, the more polarizing the question, the better!
A Day In The Life: give your audience a glimpse behind the scenes! Share what you're up to that day – both the bookish and non-bookish activities (or whichever you want!).
How do you plan Instagram content?
You don't need to plan Bookstagram content ahead of time, but it can help keep you organized! Batching your Bookstagram posts (i.e. taking multiple photos at once, writing multiple captions, etc.) is a great time-saver, too.
There are a few apps I've used for planning out my content ahead of time, so I don't have to worry about missing a publication deadline (for ARCs) or what to post:
I use Trello to write down all my Bookstagram content ideas. It's a free app that lets you create lists with different "tasks" that you can move around. You can also add due dates to your tasks.
You can use the Preview app to plan, preview, and organize how you want your feed to look. It can even send you a reminder when it's time to post.
Later is an Instagram scheduling app, where you can create your posts and set them to publish at certain times. With their free plan, you can schedule a limited amount of posts per month and use their visual Instagram planner.
You can also create your posts directly in the Instagram app and save them as a draft to publish later. Whatever works best for you.
I hope you found this list of Bookstagram ideas helpful. Now get out there and get creating! 🙂
Related posts for more Bookstagram tips & inspiration: