Whether you read and loved the murder mystery novel The Maid or you're just now hearing about it, you're in the right place. Here's everything you need to know about Nita Prose's books (including the newest book in The Maid series)!
**Please note, some links on this page are affiliate links. If a purchase is made through an affiliate link, I may receive a commission at no cost to you. As an Amazon Associate, I earn from qualifying purchases. See my full disclosure policy here. Thanks for your support!
Who is Nita Prose?
Nita Prose is the author of the breakout bestselling novel The Maid, about a charming neurodivergent maid who gets swept up into a murder mystery at the fancy hotel where she works. Prose previously worked as a book editor for many bestselling authors before publishing her own first novel.
The Maid was a #1 New York Times Bestseller and a Good Morning America Book Club Pick. It also won the Goodreads Choice Award for Best Mystery/Thriller in 2022.
Nita Prose Books
And now, here are the details about each book in the cozy mystery series The Maid by Nita Prose!
The Maid
Genre: Mystery/Contemporary Fiction
Order on Amazon | Support local bookstores
Synopsis & Review: The Maid is like a cross between Clue, Eleanor Oliphant, and a modern Agatha Christie novel. It's about a woman named Molly who works as a maid in a fancy hotel. She has trouble understanding social cues, and lives her life by the teachings of her beloved Gran. But things take a turn when she finds a man dead in his room, and she becomes involved in a murder investigation.
This is a fun and cozy locked-room mystery with a unique, lovable protagonist! Molly the maid is a wonderful character that's easy to root for. I love hotel settings in books, too, and the fact that this was set at the opulent Regency Grand Hotel definitely doesn't hurt. Highly recommended if you're looking for a lighthearted mystery!
Release date: January 4th, 2022 (U.S.)
*Thanks to Random House/Ballantine for the gifted review copy.
The Mystery Guest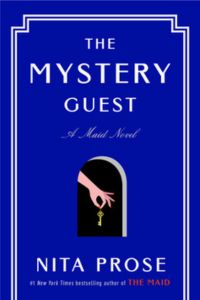 Genre: Mystery/Contemporary Fiction
Pre-order on Amazon | Support local bookstores
Synopsis: Not long after Molly Gray is promoted to Head Maid at the Regency Grand Hotel, a famous mystery author is found dead on the hotel's tea room floor. Detective Stark returns to the hotel to investigate the murder, but Molly has a secret: she knew the victim, J.D. Grimthorpe, as a child. She must sift through her memories for clues to help solve the crime and save her beloved hotel.
Release date: November 28th, 2023 (U.S.)
Is Nita Prose writing another book after The Maid?
Yes! Her newest book, The Mystery Guest, will be released in November 2023 in the U.S., and sometime in 2024 in the U.K. It's technically a standalone novel, but it features the protagonist from The Maid – Molly Gray – and is also set at the Regency Grand Hotel.
Will there be a TV show or movie adaptation of The Maid?
Yes! Florence Pugh is set to star as Molly Gray in the film adaptation of The Maid. The movie was announced in 2021 and is currently in development with Universal Studios. There's no set release date yet.
I hope you get a chance to check out this unique and charming mystery series by Nita Prose!
More posts you might enjoy: