A Good Girl's Guide to Murder is well-loved on Bookstagram (and probably everywhere else, too!). It felt like everyone had read it, and I was the final holdout.
Now that I've finally read it, I see why this book is so popular! (And I'm kicking myself for waiting so long.)
A quick synopsis: Pippa Fitz-Amobi (a.k.a. Pip), a high school senior, decides to focus her senior capstone project on a 5-year old murder that happened in her town. The case is closed and the accepted killer, Sal Singh – a boy she knew when she was younger – is now deceased. But Pip just doesn't believe he did it.
As she starts digging into the case and interviewing past witnesses, things take a dark turn. Someone really doesn't want her snooping.
**Please note, some links on this page are affiliate links. If a purchase is made through an affiliate link, I may receive a commission at no cost to you. As an Amazon Associate, I earn from qualifying purchases. See my full disclosure policy here. Thanks for your support!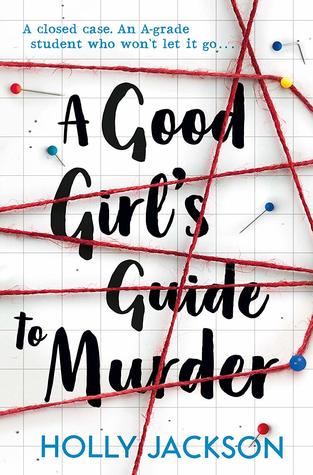 Order on Amazon | Support local bookstores
A Good Girl's Guide to Murder by Holly Jackson (Review)
Essentially, this YA mystery is a modern-day Nancy Drew crossed with Serial, told with a combination of narrative and snippets of research & transcripts.
The Serial podcast was (and is) a wildly successful phenomenon, and true crime is insanely popular – especially in recent years. There's just something so fascinating about being an armchair detective. (That's part of why we love mystery/thriller books, am I right?!)
So it makes TOTAL sense that someone drew inspiration from it for a novel. (And I'm so glad that someone was Holly Jackson). This book really works, while still maintaining its own identity and uniqueness.
I'm a big fan of this type of mixed media storytelling, so it goes without saying I had so much fun reading this! It was very binge-able, with small town vibes and love-able (and not-so love-able) characters.
There were a few moments that veered a litttle past the realm of believability. But honestly, I didn't really care. This story is entertaining as hell and packs a whole lot of heart!
It's perfect for fans of:
True Crime
Karen McManus
Truly Devious series by Maureen Johnson
Rating: 4.5/5
Check out this list of Holly Jackson's books in order for more books from this fabulous author!
If you like this series, you might also enjoy The Inheritance Games series (a young adult mystery series with puzzles, plus a mansion with secret passageways!).