If you love the TV show Only Murders in the Building as much as I do, then you'll inevitably be looking for something to fill its void one you've finished watching. I've put together a list of similar books like Only Murders in the Building – perfect for fans of this surprisingly heartwarming murder mystery show!
**Please note, some links on this page are affiliate links. If a purchase is made through an affiliate link, I may receive a commission at no cost to you. As an Amazon Associate, I earn from qualifying purchases. See my full disclosure policy here. Thanks for your support!
What is Only Murders in the Building About?
Only Murders in the Building is a comedy mystery TV series created by Hulu, starring Martin Short, Steve Martin, and Selena Gomez.
The unlikely trio comes together to solve a shocking murder that takes place in the grand New York building where they live.
It features a vast, kooky cast of characters and a true crime podcast that ties the whole story together.
The show is similar to a cozy mystery, because while there is a murder mystery-focused plot, the overall feel of the story – and its characters – are generally pretty wholesome. The characters are love-able and the dialogue is funny and upbeat.
If you love this TV show like I do, here are some similar mystery novels to enjoy!
You might also like these novels set at hotels.
The Maid by Nita Prose
Order on Amazon | Support local bookstores
If you love the show's upscale apartment building setting – The Arconia – you'll love this cozy murder mystery set in a grand hotel.
The Maid is like a cross between Clue, Eleanor Oliphant, and a modern Agatha Christie novel. It's about an enigmatic woman named Molly who works as a maid in a fancy hotel. She has trouble understanding social cues, and lives her life by the teachings of her beloved Gran.
But things take a turn when she finds a man dead in his room, and she becomes involved in a murder investigation.
Here's a guide to The Maid series, including the sequel!
*I received a gifted copy of this book from the publisher, Random House/Ballantine.
A Good Girl's Guide to Murder by Holly Jackson
Order on Amazon | Order on Bookshop.com
A teenage girl (Pippa Fitz-Amobi, or Pip for short) becomes an amateur sleuth determined to solve an old murder case in her small town. Someone was blamed for the crime, but Pip isn't so sure they committed it – so she sets out to prove it for her school project.
She records a true crime podcast to document the process, but her investigation proves more dangerous than she ever imagined.
The Thursday Murder Club by Richard Osman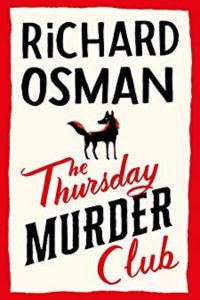 Order on Amazon | Support local bookstores
One of the most unique (and hilarious) aspects of Only Murders in the Building is the way they play off the ages of the characters for comedic relief. Steve Martin and Martin Short – both part of an older generation – contrast so well with Selena Gomez's youth.
The Thursday Murder Club is somewhat similar in that the main characters are all a group of retirees, living in a sleepy village in the English countryside.
They meet every week to discuss unsolved murders. But when a murder takes place in their own town, their skills are put to the test on a live case. Can they find the killer in time?
None Of This Is True by Lisa Jewell
Order on Amazon | Order on Bookshop.com
If your favorite part of Only Murders in the Building is the true crime podcast, this intense thriller is a must-read.
It's about a popular podcaster named Alix Summers, who meets a woman named Josie in a bar. Alix is drawn to Josie's unsettling life story, and decides to make her a subject in her podcast series.
But shortly after Josie has entangled herself into Alix's life, Josie disappears – and that's when Alix really starts to discover Josie's secrets.
Finlay Donovan Is Killing It by Elle Cosimano
Order on Amazon | Support local bookstores
This book follows Finlay Donovan, a struggling writer and mother of two who's dreading an impending custody battle with her cheating ex-husband.
While discussing her latest book project with her agent at a Panera, a woman sitting nearby mistakes Finlay for a contract killer. That's when things really take a turn for Finlay and her nanny/friend, Vero.
This is a highly entertaining, laugh-out-loud mystery with fully-formed characters and hints of romance. Definitely recommended!
Bellweather Rhapsody by Kate Racculia
Order on Amazon | Order on Bookshop.com
This quirky, humorous, and genre-bending mystery novel features an eccentric cast, plenty of pop-culture references, and an old – but grand – hotel that was the site of a murder years prior.
Vera Wong's Unsolicited Advice for Murderers by Jesse Q. Sutanto
Order on Amazon | Support local bookstores
One day, sixty-year-old tea shop owner Vera Wong finds a dead body in her shop.
She's got some extra time on her hands and is determined to hunt down the killer herself. What could go wrong?
(Jesse Q. Sutanto's funny contemporary murder mystery set at a wedding – Dial A For Aunties – is also a great choice!).
Anxious People by Fredrik Backman
Order on Amazon | Support local bookstores
This dark comedy is centered around a group of people (and a would-be bank robber) trapped in an apartment building during a hostage situation, and the policemen who are determined to figure out what's going on. Except, the situation isn't quite what you think it is.
But one thing's for certain: each character has their own anxieties, secrets, and dreams. Because that's what it is to be human.
If you're a fan of Only Murders in the Building, I have a feeling you'll really enjoy these unique mystery novels. 🙂 Happy reading!