As someone who can be a little picky about romance books, I'm a big fan of Emily Henry! I love that her books always make me laugh. They're fun romantic comedy books with great characters you can't help but love. Here are all of Emily Henry's books in order of release date, including her newest book coming in 2024 called Funny Story!
**Please note, some links on this page are affiliate links. If a purchase is made through an affiliate link, I may receive a commission at no cost to you. As an Amazon Associate, I earn from qualifying purchases. See my full disclosure policy here. Thanks for your support!
Who is Emily Henry?
Emily Henry is an American author of romance novels (among other genres). She is a New York Times bestselling author, and has written eight novels so far (plus one that's set to be published in spring of 2024).
Her novel People We Meet on Vacation won the Goodreads Choice Award for best romance novel in 2021. The next year, her novel Book Lovers won the same award.
Emily Henry Adult Romance Books in Order
Here are all of Emily Henry's contemporary romance books in order of publication date! So far, my favorites are Beach Read and Book Lovers.
Beach Read
Order on Amazon | Support local bookstores
Synopsis: A jaded romance author and a literary writer with writer's block challenge each other over the summer to write in the other's preferred genre – and hopefully pen their next great novels.
Published in 2020
People We Meet on Vacation
Order on Amazon | Support local bookstores
Synopsis: Alex and Poppy have been best friends since college. Although they live apart, they go on a week-long vacation together every year. Until, something happens that stops them from speaking for two years. Now, Poppy has convinced Alex to go on one last trip together. Will it fix their friendship, or just drive them further apart?
Published in 2021
Book Lovers
Order on Amazon | Support local bookstores
Synopsis: This enemies-to-lovers romance centers around a literary agent and a book editor – whose first encounter did not go well – who end up in the same idyllic small town of Sunshine Falls for the summer.
Published in 2022
Happy Place
Order on Amazon | Support local bookstores
Synopsis: Harriet and Wyn have been the perfect couple since college – until they broke up six months ago without telling anyone. Now, it's their annual summer cottage getaway with their group of best friends (who think they're still together). They decide to keep their breakup a secret so they can enjoy the last week they have at their favorite summer spot in Maine. What could go wrong?!
Published in 2023
Funny Story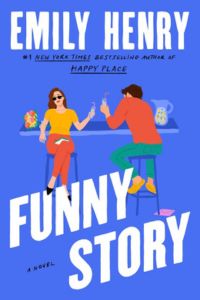 Pre-order on Amazon | Support local bookstores
Synopsis: When Daphne's fiancé realizes he's in love with his childhood best friend Petra and calls off the engagement, Daphne finds herself stranded in a lakeside town in Michigan. She needs a roommate but doesn't know anyone, aside from the one person who might understand what she's going through: Petra's ex. The two form a plan to help each other make it look like they're having the best summer ever (while they secretly wallow in their misery).
Publication date: April 23rd, 2024
Young Adult Books
Emily Henry has also written a few young adult books:
The Love That Split the World (2016) YA Contemporary/Romance/Fantasy
A Million Junes (2017) YA Fantasy/Romance
When the Sky Fell on Splendor (2019) YA Science Fiction/Mystery
Hello Girls (2019 – written with Brittany Cavallaro) YA Contemporary/Coming of Age
Do you need to read Emily Henry's books in order?
Nope! All of Emily Henrys books are standalone novels, so you can read them in any order you want.
Have any of Emily Henry's books been made into movies or TV adaptations?
Three of Emily Henry's adult romance novels have planned film adaptations in the works: The People We Meet on Vacation, Beach Read, and Book Lovers! There are no release dates set yet.
I hope you get the chance to read some – or all – of Emily Henry's books!
More posts you might enjoy: