I've been a member of Goodreads for a decade, so it's pretty clear that I'm a big fan! It has tons of useful features for readers, and not just for those who read a lot. In this post, I'm sharing everything I love about the Goodreads app, including what it is and (many) reasons you should join.
What is Goodreads?
Goodreads is an app that's all about books. It originally launched in 2007.
It's like what the IMDB app does for movies and TV shows. On Goodreads, you can see what others have rated books and add them to your to-be-read list. You can also search for any book by title or author.
It's also partially a social media platform. You can see what your friends are reading, read their reviews, and comment on them. It's like one giant digital book club!
Additionally, there are book recommendations, book reviews, discussion forums, bookish groups, and lots more features on the app.
Goodreads is free to join, and you can use it either on a computer (via the website) or your smart phone (via the app). You can even connect Goodreads with your Kindle!
Why join Goodreads?
Anyone who reads – even if it's just a few books a year (no judgement!) – should join Goodreads. It allows you to keep track of books, find new book recommendations, join groups of like-minded people, and more.
If you haven't created a Goodreads account yet, here are 9 reasons you should join. (Don't worry: it's free!)
1. Find lots of honest book reviews on Goodreads
This is one of the main reasons I joined Goodreads. I'm the type of person who likes to read through a book's reviews and ratings before I read it. It's a form of social proof.
While I always condone pushing your reading boundaries, I don't want to waste my time on a book with awful reviews, or a book that I know really isn't for me. If you're the same way, then Goodreads book reviews can be a huge help!
2. Keep track of the books you've read (or are currently reading)
Another big one: you're able to keep track of all the books you've ever read (including what you read as a kid). It's fun to see how your reading has progressed, or which classics you've read.
Plus, the next time you pick up a book that looks familiar, you'll be able to check Goodreads to make sure you haven't already read it! This is especially helpful when you're trying to figure out which book to read next in a series.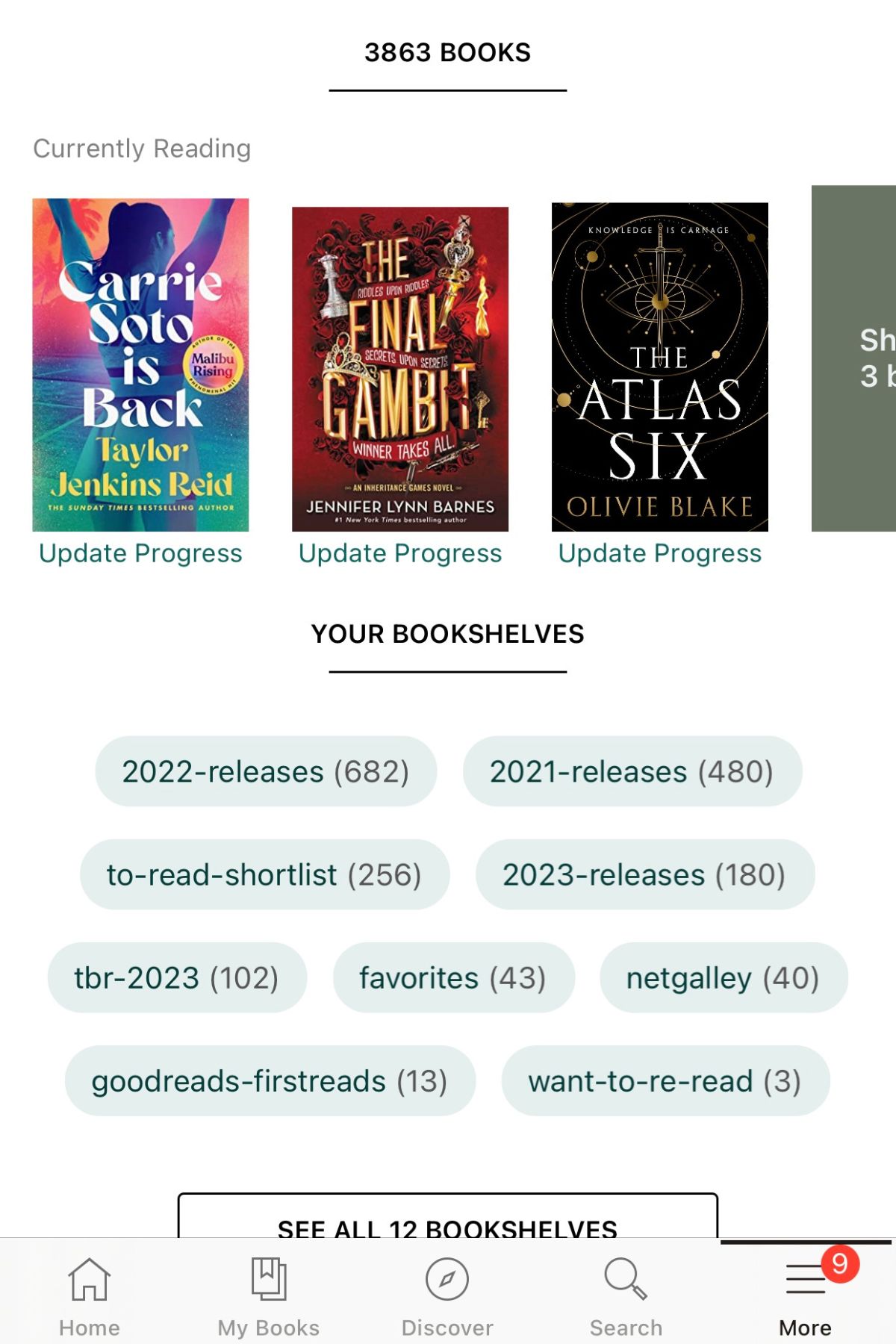 Once you start adding and rating books that you've read, Goodreads can find books to recommend you based on those books.
3. Keep track of the books you want to read
Did a friend just recommend a book they love? Or did you find out your favorite author is coming out with a new book this year? You can add it to your Goodreads TBR list! That way, you'll never forget about it.
Anytime I hear about a book that sounds interesting, I add it to my TBR list. It's like the holy grail of my lifetime reading goal.
4. Set a yearly Goodreads reading goal
This is a great way to motivate yourself to read more books – it's a fun challenge to take part in! At the end of the year, Goodreads puts together a bunch of reading stats about your reading that year. You can even compete with others (if that's your thing!).
5. Keep track of the books you own
This is such a useful feature of Goodreads, but I feel like it doesn't get utilized as much as it should. Maybe people don't know about it? Either way, you can use the Goodreads app to scan your books' ISBN codes and track all the books you own!
Goodreads will find those books in their database and mark them as books you own. That way, when you're at the bookstore (or if you have too many bookshelves to keep track of) you'll never have to wonder if you already have a book again.
6. Create book lists
A TBR list isn't the only list you might want to create. There are lots of ways to organize books into lists. For example, I have a "Favorites" shelf where I put my favorite books of all time. I also have a list of books I want to read this year specifically (because my main TBR list might be a little out of hand).
There are also shared book lists where any user can add books and/or vote. For example, there are lists for the best young adult books, fantasy series', or new releases people are most excited about. No matter what you're into, you'll probably find at least one related list!
Do you like free books? Great, because joining Goodreads means you can enter to win them – both electronic and physical copies!
In exchange, all you have to do is read the book and write a review. (It's not required, but it really helps the publishers and authors that sponsor the giveaways!).
It's super easy to enter a giveaway (just takes one click), and there are always a ton to choose from. You can even win ARCs (advanced reader copies) of books that haven't been released yet.
Check out this post for more about Goodreads giveaways!
8. Join book discussion groups
Goodreads groups are like more specialized versions of a digital book club. If you love Stephen King, for example, there are multiple groups dedicated to reading and discussing his books.
Search for your favorite authors and/or genres, and you'll likely find a group that's perfect for you.
9. Vote in the Goodreads Choice Awards
Every year, Goodreads sets up a sort of bracket challenge, where users vote on their favorite books of the year from each genre. This is a great way to find your next favorite read! It's fun to support the books you love, too.
>>>>>> Related post: 2019 Goodreads Choice Awards Nominees You Should Read
How to Add a Book to Your Lists on Goodreads
The Goodreads app has a built-in 'Want to Read' shelf, or you can create your own lists however you choose.
To add a book to your digital shelf, start by searching for a book title or author. Click on that book.
Below the book's title, there should be a green button that says 'Want to Read'. (The button will be grey – but still clickable – if you've already added that book to your Want to Read list or another list.)
Select the shelf you want, and click Done. Continue doing that for all the books you want to add!
I hope this post has convinced you to join Goodreads. 🙂 And if you do, let's be friends! You can find me here.
Looking for more bookish tips? Here are some posts to get you started: