If you haven't heard of Fourth Wing by Rebecca Yarros, you might be living under a rock. 😉 This romance fantasy novel has taken the reading world by storm as one of the hottest breakout bestselling books of 2023. And great news: it's just the start of a planned series by Rebecca Yarros, called The Empyrean!
**Please note, some links on this page are affiliate links. If a purchase is made through an affiliate link, I may receive a commission at no cost to you. As an Amazon Associate, I earn from qualifying purchases. See my full disclosure policy here. Thanks for your support!
Who is Rebecca Yarros?
Rebecca Yarros is the author of the breakout bestselling fantasy novel Fourth Wing, about a young woman who is trained as a dragon rider at a brutal war college. Yarros has also written many romance novels, and has written over twenty novels in total.
She has been awarded the Colorado Romance Writer's Award of Excellence, and one of her novels was a Kirkus Best Book of the Year.
The Empyrian Series: Fourth Wing & More
Fourth Wing is a fantasy romance novel with dragons that's been likened to a combination of The Hunger Games, A Court of Thorns and Roses, Game of Thrones, and Eragon. It's one of the buzziest books of 2023, and is all over Bookstagram.
And don't worry: there's a sequel coming soon! In fact, Rebecca Yarros has stated that there will be a total of five books in the Empyrean Series.
Here are more books like Fourth Wing to read, to help get you through the wait until the next Empyrean series book comes out!
And now, here's a breakdown of The Empyrean series:
Fourth Wing by Rebecca Yarros (Book 1)
Genre: Fantasy/Romance/New Adult
Order on Amazon | Order on Bookshop.com
Synopsis: This breakout bestselling fantasy novel is about a young woman with a chronic illness who is forced (by her mother, a high-ranking general) to join a war college for dragon riders. Cadets are subjected to deadly trials designed to train them for war – and to prepare them for the power-wielding bond they will forge with a dragon. (It's like a cross between The Hunger Games, ACOTAR, Game of Thrones, and Eragon!).
Release date: May 2nd, 2023 (U.S.)
Iron Flame by Rebecca Yarros (Book 2)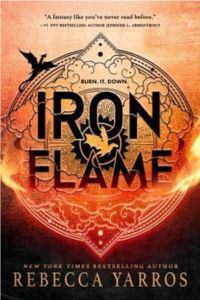 Genre: Fantasy/Romance/New Adult
Pre-order on Amazon | Pre-order on Bookshop.com
Synopsis: The sequel to Fourth Wing. (*Beware possible spoilers from the first book ahead*). Violet Sorrengail survived the threshing at Basgiath War College, but that was just the first step in the brutal training regimen for dragon riders. On top of Violet's chronic illness, the vice commandant has it in for her – and he's determined to drive a wedge between Violet and she man she loves. Can her wits and willpower get her through the impossible? Even surviving the training may not be enough, when Violet knows there's a greater threat lurking.
Release date: November 7th, 2023 (Be sure to pre-order early in order to receive a limited first print hardcover with painted edges and detailed map endpapers!)
Will there be a TV show or movie adaptation of Fourth Wing?
There is no news yet of a Fourth Wing adaptation, but I wouldn't be surprised at all if it happens! Stay tuned.
I don't know about you, but I can't wait until the sequel to Fourth Wing comes out in November! I hope you get a chance to check out this fun & addicting series, if you haven't already.
More posts you might enjoy: