Need a little inspiration for your Halloween costume this year? These fun bookish costumes are perfect for dressing up as your favorite literary character this Halloween! From Elizabeth Bennet to Hermione to Feyre from ACOTAR, bibliophiles will love these book character costume ideas for women.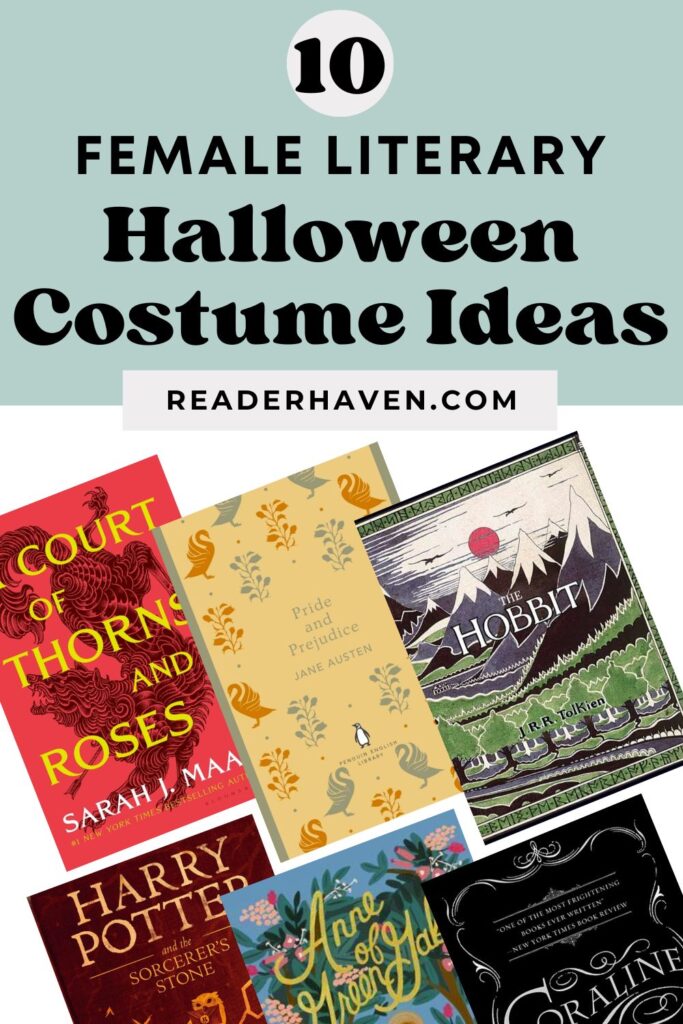 **Please note, some links on this page are affiliate links. If a purchase is made through an affiliate link, I may receive a commission at no cost to you. As an Amazon Associate, I earn from qualifying purchases. See my full disclosure policy here. Thanks for your support!
Best Female Book Character Costumes for Halloween
It's so fun to dress up as characters from your favorite books – especially when other bibliophiles recognize who you are!
In past years, some of my favorite costumes have been Galadriel from The Lord of the Rings, and when my friend and I dressed up as the twins from Stephen King's The Shining. (That was definitely a spookier one!).
Below, I'm sharing some bookish Halloween costume ideas for some of the most well-known and beloved female literary characters. I hope it helps spark some inspiration!
1. Coraline Costume (from Neil Gaiman's Coraline)
For all you fellow Neil Gaiman fans: this is a fun Halloween costume for all ages! Coraline's bright yellow raincoat, rain boots, and blue hair will be recognizable to anyone who's read this beloved book (or seen the movie).
You can even get these cool button-eye glasses to go with it! And if you already have a black cat, that's even better. 🙂
Any regency-era dress should work for an Elizabeth Bennet costume! Add some long white gloves and pin your hair up, and you're good to go.
You can even add a lacy bonnet if you want to get extra fancy!
3. Galadriel Costume from The Hobbit and The Lord of the Rings series
I was Galadriel (or maybe more so Arwen, since I have brown hair) for Halloween back in the early 2000s, and it was one of my favorite costumes ever! Perfect for Tolkien fans (or even if you just love the movies – no judgement!).
If you already have a white dress or you want to really go all-out, this awesome silvery velvet hooded cloak would be a perfect addition.
4. Dorothy from The Wonderful Wizard of Oz
L. Frank Baum's classic tale of adventure – and finding your way home – is beloved as a book and a film.
Any number of the characters would make fun costumes (such as Glynda the Good Witch or the Tin Man), but I'm including Dorothy here since she's the protagonist of the story.
Her ruby slippers, white-and-blue dress, basket, and pigtail braids are staples for this costume! (The costume above includes everything except the shoes, but pretty much any white, black, or red shoes should work!).
Who could forget one of the most recognizable witches of our time?!
Hermione is a beloved character all around the world, and for good reason. Her courage, loyalty, and quick-thinking – along with her big heart – make her an inspirational role model.
Plus, dressing up as Harry Potter characters is always fun. Don't forget a wand!
Everyone will love this costume inspired by the titular character from L.M. Montgomery's classic series.
This one requires a little more creativity, since there aren't too many (if any) pre-made costume sets for Feyre. But, I found some cool options (see above) that could work really well!
Luna Lovegood is another fabulous Harry Potter character. You can go the classic route and get a Hufflepuff robe, or put together a fun Luna outfit with lots of patterns, colors, and Luna's zany glasses!
9. Daenerys Targaryen from A Game of Thrones (A Song of Ice and Fire series)
The mother of dragons needs no introduction! You can go two routes with this: the badass dragon rider outfit or the flowy queen dress.
The blonde wig is probably a must, in order to be clearly recognizable as Daenerys (unless you're already blonde, of course)!
Here's another kick-butt character everyone loves to root for. All you need is the bodysuit, a bow (arrows optional), and a braid – plus a really good withering stare – to dress up as her!
Do you know yet what you'll dress up as for Halloween this year? Let me know in the comments!
More posts you might enjoy: