As a lifelong reader and book lover, I've come across some super useful book accessories and reading gadgets that you should definitely know about! From page holders to book sleeves and beyond, I'm sharing my favorites below.
**Please note, some links on this page are affiliate links. If a purchase is made through an affiliate link, I may receive a commission at no cost to you. As an Amazon Associate, I earn from qualifying purchases. See my full disclosure policy here. Thanks for your support!
Essential Bookish Accessories & Reading Gadgets
Whether you're looking for some helpful reading essentials for yourself or you need some bookish gift ideas for a reader in your life, these book accessories and gadgets are a perfect choice.
They're all designed to either help you enjoy your reading experience, or protect your beloved books (both of which are very important to a bibliophile!).
Check out these awesome bookish shops with the coolest literary merchandise for more fun bookish products!
Have you ever found yourself trying to hold your book open while eating? I don't know about you, but it used to be so frustrating for me until I bought one of these book page weights!
You just set it on your book, and it holds it open to your current page. It makes reading while eating so much easier!
If you like to read at night like I do, a book light is essential – especially if you have a partner or child who sleeps in the bed with you!
It's a perfect way to enjoy some nighttime reading without bothering the person next to you. I bought this dual book light years ago, and I still use it all the time! My husband calls it my 'bunny ears' reading light. 🙂
You just attach the clips to either side of your book cover, turn the lights on, and read away! Plus, the battery is rechargeable, so you don't have to worry about replacing batteries.
Fellow bath lovers, this one's for you! Reading in the bath is so relaxing, but it can be a struggle to hold your book without it getting wet.
I bought this bath caddy a couple years ago, and I love it! My favorite part is the book stand that keeps my book (or my Kindle) from getting wet.
It also has tons of other compartments you can use for your favorite beverage (hello glass of wine or hot cocoa!), soaps, your phone, and more.
I like to bring a book with me everywhere I go, in case I find myself with some extra reading time. But tossing a book into a large bag with a bunch of other things can damage it.
That's where a book sleeve comes in! It's an easy way to keep your books protected while traveling or on the go.
Plus, there are so many different fabrics and prints to choose from! One of my favorite book sleeves has an adorable Peter Pan print. (See below – sadly, this particular fabric is no longer in stock!).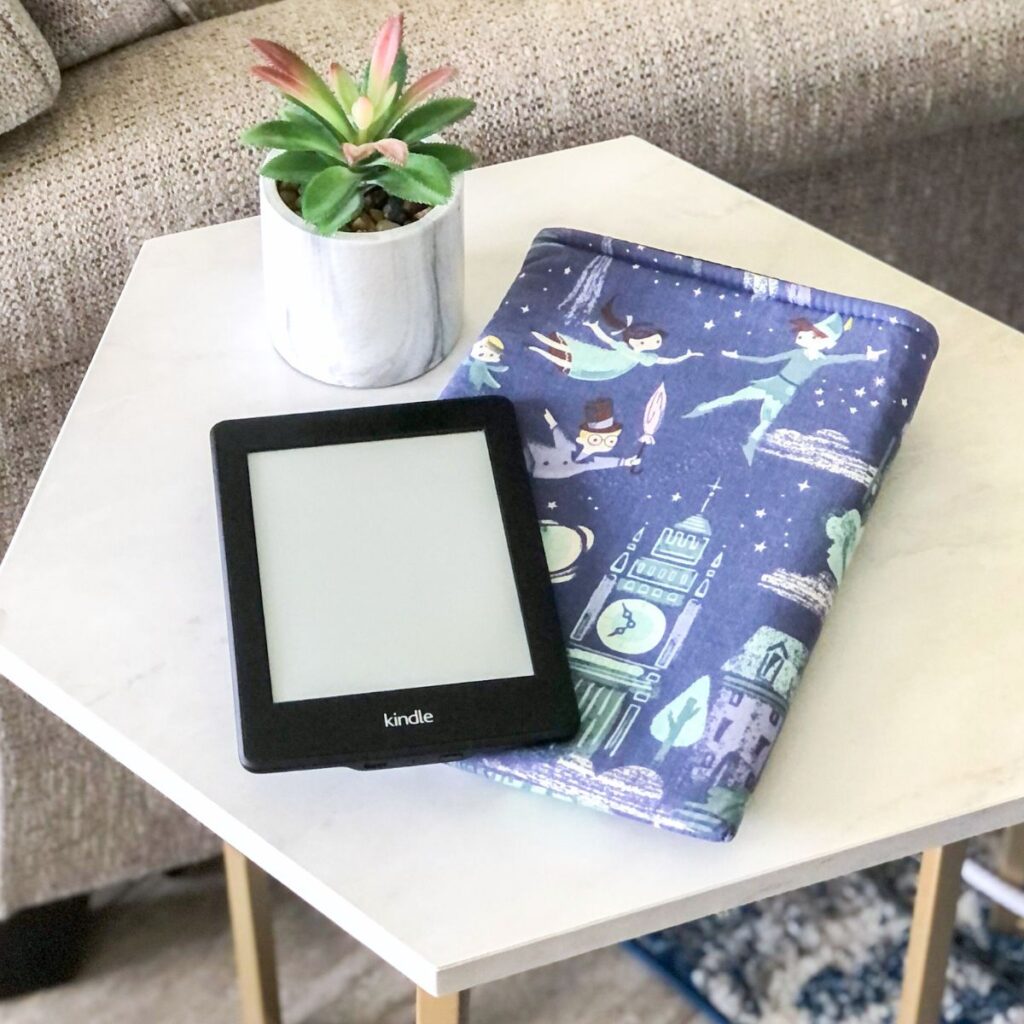 While I prefer to read physical books when possible, I do love having my Kindle for convenience – especially for traveling!
It allows you to bring a huge selection of books with you wherever you go, and it's easier to read in the dark because it has backlighting.
You can also buy a refurbished Kindle if you want to save a little money!
If you love to annotate while you read, these colorful sticky tabs are perfect for jotting down quick notes and keeping track of pages!
They come in a huge selection of colors, and are a great alternative to highlighting when you find a new favorite quote or passage.
If you find yourself straining to read because the words feel too small, you need this page magnifier in your life! It provides lighting while magnifying the words, relieving eye strain.
This one does require AAA batteries, so just make sure you have some on hand!
I have trouble reading when there's a lot of background noise (like the TV), so I find noise-cancelling headphones super useful.
These wireless headphones feature active noise cancellation, which means they can cancel out noises with certain frequencies. And of course, you can also use them to listen to audiobooks!
If you read on your Kindle, iPad, or phone a lot (especially while lying down or in bed), you know how sore your arms can get from holding it up for too long. This is your answer!
It's a soft pillow that sits comfortably on your lap while supporting your Kindle. Super simple, yet very helpful!
If you like to listen to audiobooks while laying in bed or while running, these headphones are perfect!
The headband design comfortably keeps the headphones in place, and also helps reduce outside noise.
There you have it: my favorite book accessories! I hope you find these reading gadgets helpful, and happy reading. 🙂