Any time something is compared to Knives Out, it'll probably be my jam. So I couldn't wait to get my hands on The Inheritance Games by Jennifer Lynn Barnes! I'm a sucker for sprawling mansions with secret passageways and hidden riddles.
Avery Grambs is just a normal teenage girl…until she finds out billionaire Tobias Hawthorne has left her his entire inheritance of 42 billion dollars. But the Hawthorne family is used to a life of luxury, and they aren't too thrilled to be disinherited.
Soon after, Avery – and the billionaire's 4 grandsons – realize there's a game hidden in the will. Avery is desperate to find out why she was chosen as this stranger's heir, so she plays along, following every riddle and searching the mansion for clues.
But when Avery's life is put in danger, she has to find out which of her new housemates wants her dead – before it's too late.
*I received this book for free from the publisher (Little Brown Books for Young Readers) in exchange for an honest review.
**Please note, some links on this page are affiliate links. If a purchase is made through an affiliate link, I may receive a commission at no cost to you. As an Amazon Associate, I earn from qualifying purchases. See my full disclosure policy here. Thanks for your support!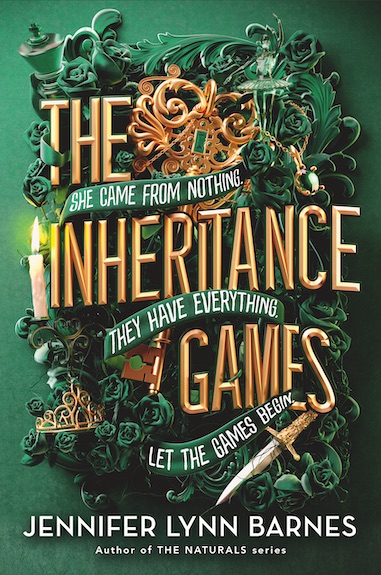 Order on Amazon | Support local bookstores
The Inheritance Games by Jennifer Lynn Barnes: My Thoughts
This book was SO much fun – exactly what I was hoping for! It's very much a cross between Knives Out and The Westing Game (both of which I am all about). There was some family drama, a little romance, and a whole lot of mystery and adventure.
Not only was it ridiculously entertaining, but it was also well written, with fully-formed and interesting characters. It goes without saying that I LOVED the setting. I mean, a mysterious mansion with hidden passageways, rooms to fit every possible activity, multiple libraries, and a dark forest on the grounds? Um, yes please.
I sometimes have trouble with YA books if they feel too young, but this one didn't feel that way at all. I flew through this in one day, and am beyond excited that there'll be a sequel!
(Update: check out this post for details on The Inheritance Games series in order! Plus, here are 18 puzzle-filled books to read if you liked The Inheritance Games.)
Read this IMMEDIATELY if you like:
the Truly Devious series
games and riddles
Karen McManus/Holly Jackson
Knives Out or Clue
mysterious mansions
Rating: 5 (out of 5) stars
Publication date: September 1st, 2020
If you're looking for more great books to read, check out my list of favorite thrillers of 2020!