The Heiress by Molly Greeley takes a misunderstood Jane Austen character – the sickly Anne de Bourgh from Pride and Prejudice – and breathes life into her story. (And I think we can all agree – she needed a better story!).
This historical fiction novel follows the life of Anne de Bourgh, the sickly cousin of Darcy from Pride and Prejudice. She's the heir to Rosings Estate, yet she's spent her life in a laudanum (an opium tincture) haze since she was a baby, due to her "weak disposition". But something prods in the back of her mind, causing her to wonder if this is all there is to life, or if there's something holding her back.
*I received this book for free from the publisher (William Morrow Books) in exchange for an honest review.
**Please note, some links on this page are affiliate links. If a purchase is made through an affiliate link, I may receive a commission at no cost to you. As an Amazon Associate, I earn from qualifying purchases. See my full disclosure policy here. Thanks for your support!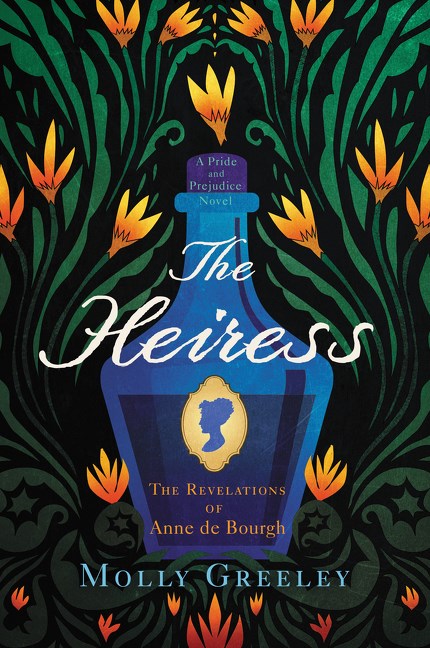 Order on Amazon | Support local bookstores
The Heiress by Molly Greeley: My Thoughts
I loved the premise of The Heiress, paying homage to an almost overlooked character from Jane Austen's classic novel. The story has a Gothic tint to it, feeling like the classic it's built upon, but it also feels fresh and new.
There's a lot of sensory detail and introspection in the first part of the story. (You'll understand why if you read it). Don't expect an adrenaline-fueled plot: I think this one is meant to be read at a leisurely pace. Personally, I really enjoyed it! But if you like a lot of action in the books you read, just be aware of that. It's more about about enjoying the journey of being immersed in a different place and time, and watching the character development unfold.
There's romance, family drama, a "season" in London society, and sprawling estates. Most of all, I love that it gives a 'lesser' character a chance to tell her own story. It's one that will surprise and delight readers, with a transformation we can all root for.
Fans of Pride & Prejudice, Jane Austen, Bridgerton, and/or Sarah Waters should enjoy this one!
Rating: 4 (out of 5) stars
Release date: January 5th, 2021
If you love reading books that give classic fictional characters a fresh story, I highly recommend The Good Wife of Bath by Karen Brooks. It's an amazing historical fiction novel inspired by Chaucer's Canterbury Tales!