Whether you're selling books, mailing a book to a friend, or participating in a book swap, it's important to pack books properly so they won't get damaged during the shipping process. Here's everything you need to know about how to package books for shipping!
As a former online bookseller, I've shipped well over a thousand books. I learned what to do, and what not to do (from some not-so-smart mistakes I made in the beginning). In this post, I'm sharing all my best book packaging tips with you, so you can protect your books in transit!
**Please note, some links on this page are affiliate links. If a purchase is made through an affiliate link, I may receive a commission at no cost to you. As an Amazon Associate, I earn from qualifying purchases. See my full disclosure policy here. Thanks for your support!
Why does packaging matter?
Carefully packaging your books for shipping is the best way to protect them from the elements – like rain, wind, and snow – and from getting jostled around.
It's not fun to find out a book you shipped was lost or destroyed in the mail. Unfortunately, you can't guarantee that it won't happen – but there are definitely some things you can do to help avoid it!
The Best Way to Package Books for Shipping
Here's my process for packing books for shipping (with details on extra protective measures you can take):
Start by wrapping the book itself in either bubble wrap, or thick brown paper (or something similar). This will protect the cover and pages from getting nicked, scraped, or otherwise damaged while moving inside the box.
For an extra layer of protection, also place the book inside a large plastic bag (preferably zip-able) to protect it from water damage. (This is especially important for valuable and/or vintage books that can't be easily replaced).
Next, decide if you're using a cardboard box or a bubble mailer (also known as a padded envelope) to ship your book(s). If you're shipping one or two smaller books, bubble mailers are best, as they will keep the book snug without too much room to move around. A box is best if you're shipping multiple books or larger books.
Then, fill the box or padded envelope with more packing material (such as newspaper, crumpled brown Kraft paper, bubble wrap, etc.). This will keep the books from moving around too much.
Use a generous amount of high-quality shipping tape to secure the box closed. (I also tape bubble mailers/envelopes closed for extra protection).
Lastly, be sure to cover the shipping label fully with clear plastic shipping tape to make sure it doesn't get wet or damaged in the rain. Make sure the tape is flat (no creases), so the barcode on the label is still able to be scanned for tracking purposes.
Where to Get Shipping Materials
Shipping materials can be expensive if you need a lot. Save any boxes, bubble wrap, and other shipping materials you receive so you can reuse it yourself! This is a great way to recycle while also saving money.
(Tip: when re-using cardboard boxes, be sure to remove or cover the previous shipping label so it doesn't confuse the postal workers!).
You can also find cheap shipping materials on Amazon, or look for discount codes at your local office supply stores. (Buying in bulk is always cheaper, if you're planning to ship a lot of books!).
I used to buy boxes in bulk at Office Depot (they send coupon codes via email), then I would pick them up at my local store. That way, I didn't have to pay extra to have them shipped to me.
How to Mail a Book
Now that you've nicely packaged your book, it's time to ship it out!
If you live in the United States, USPS Media Mail is the most cost-effective way to ship books. You can even print off shipping labels ahead of time using PayPal. (Here's everything you need to know about shipping books with USPS Media Mail, including pre-printing your labels.)
If you do want to print your shipping labels at home, you'll need a digital scale. It'll give you the weight of your packaged product, which you'll need in order to purchase the label online to print. This is the digital scale I use, and I love it!
With Media Mail, you'll get the best shipping rate per book if you ship multiple books in one package. (Of course, that only works if they're all meant for the same destination!).
Keep in mind that if you do use the Media Mail rates, you can't add any items to the package that aren't books – aside from packing material.
Once you've packaged your book, printed your shipping label, and taped it on, all you have left to do is drop the package(s) off at your local USPS!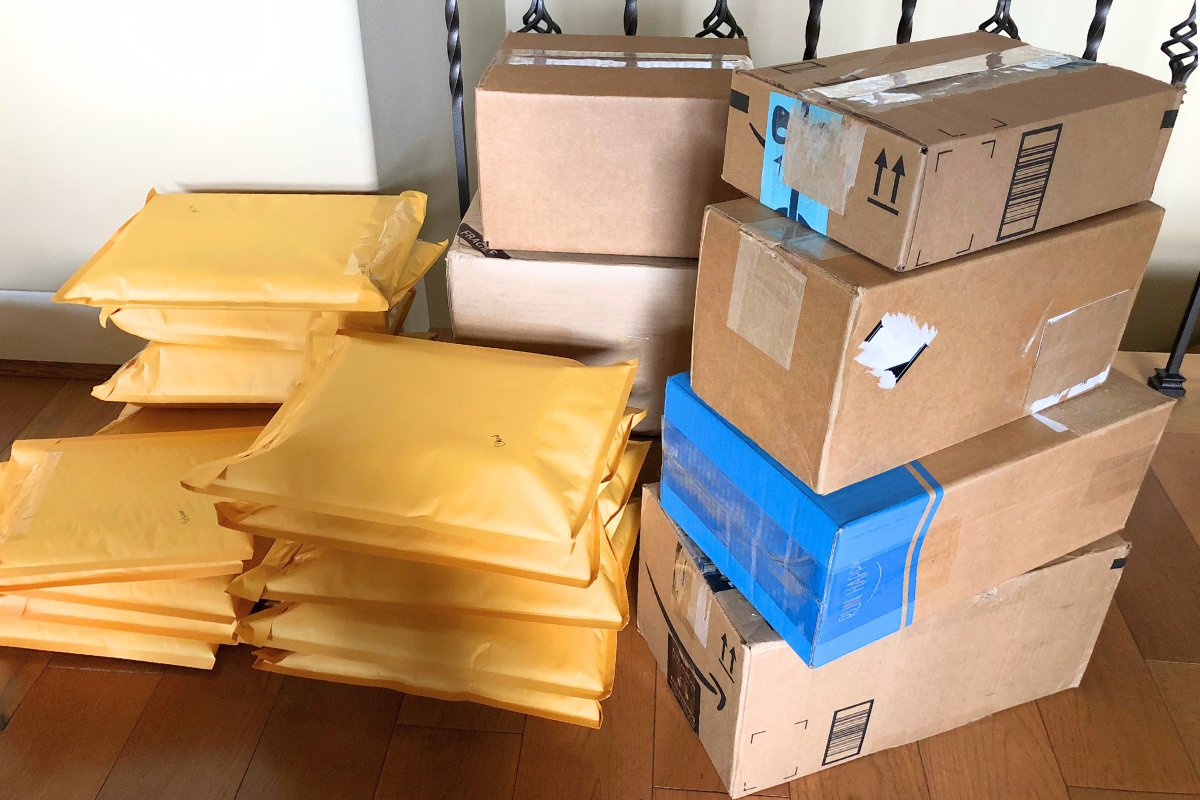 There's no need to wait in line when you pre-print your labels. Most USPS locations have a package drop-off bin for prepaid packages. Some USPS locations will even let you schedule a time for them to come pick up your packages from your home!
Just make a note of the tracking number on the shipping label, and you'll be able to track the movement of your package as it's shipped.
And that's it! You're ready to package and ship books to your heart's content. 🙂 I hope you found this guide helpful!
More posts you might enjoy: