I've been on a huge thriller kick lately. So to my delight, this year's new book releases have been killing it in the thriller genre! Here are the best thriller books of 2020.
I'm sharing some of my favorite thrillers from this year below (and what I thought about them), so you can enjoy them yourself! I'll also include some I haven't read yet, but that I've heard rave reviews about.
I'll start with the ones I've read so far, in no particular order.
**Please note, some links on this page are affiliate links. If a purchase is made through an affiliate link, I may receive a commission at no cost to you. As an Amazon Associate, I earn from qualifying purchases. See my full disclosure policy here. Thanks for your support!
I received review copies of some of these books for free through Netgalley and/or from the Publisher in exchange for an honest review.
Best Thriller Books of 2020
The Guest List by Lucy Foley
Order on Amazon | Support local bookstores
A perfect storm. That's how I'd describe this thriller.
I'm a sucker for novels set in isolated places: give me cabins in the middle of nowhere, dark & winding forests, and desolate islands all day long. So of course, I was intrigued by this book. Y'all: it REALLY delivers.
Set on a remote Irish island during a wedding celebration with a cast of characters holding dark secrets abound, The Guest List was exactly what I hoped it would be (and more). It was wonderfully Agatha Christie-esque, with all the teeth of a twisted, modern day whodunit. But the victim isn't revealed until the end: that's all part of the mystery.
Every twist and turn built up to a wild (but inevitable) crescendo. Each secret revealed itself, a piece of the puzzle coming together to form the gripping conclusion.
The story had quite a few POV characters (a few times I had to go back and check whose chapter I was reading), but getting into the head of each character was a necessary (and powerful) way to show us just how much our actions have consequences and can affect others.
All that to say: READ THIS. Just make sure you've cleared your calendar, because you won't be able to put it down!
Rating: 5/5 stars | Release date: June 2, 2020
He Started It by Samantha Downing
Order on Amazon | Support local bookstores
Siblings Beth, Portia, and Eddie Morgan have been estranged for years. But the death of their grandfather brings them back together: in his will, he added a requirement that they re-live a road trip they took with him when they were kids, or they won't get their (substantial) inheritance.
So they set off, spouses in tow, for a cross-country drive. But there's something off about the trip, and buried secrets won't stay hidden forever.
Click here to read my full review.
Rating: 4.25/5 stars | Release date: July 21st, 2020
They Never Learn by Layne Fargo
Order on Amazon | Support local bookstores
Scarlett Clark is an English professor at a small college in Pennsylvania. She's also an experienced murderer who kills bad men who get away with things they shouldn't. But when someone starts to put the pieces together about her past victims, Scarlett's meticulous planning may not be enough to save her.
Rating: 4.5/5 stars | Release date: October 13th, 2020
When No One Is Watching by Alyssa Cole
Order on Amazon | Support local bookstores
I've been hearing a ton of buzz about When No One Is Watching by Alyssa Cole, so I couldn't wait to check it out for myself! It's a unique thriller that focuses on social issues like systemic racism and gentrification.
A quick synopsis: Sydney Green has a feeling something is amiss in her beloved Brooklyn neighborhood. Her long-time neighbors are moving out at an alarming rate, with realtors breathing down their necks at every turn.
When a new couple moves in across the street, a disturbing series of events is put in motion. But can Sydney trust her judgement, or are her painful memories and sleepless nights catching up with her?
Rating: 4.5/5 stars | Release date: September 1st, 2020
Don't Look for Me by Wendy Walker
Order on Amazon | Support local bookstores
Molly Clarke, haunted by the death of her youngest daughter, walked away from her family one night, leaving a note and abandoning her car at a motel in the middle of nowhere. It seems she doesn't want to be found. But is that what really happened?
Molly's older daughter Nicole isn't so sure. Consumed with guilt, she starts poking around the small town where Molly disappeared, desperate to find out where her mother went.
Rating: 4.5/5 stars | Release date: September 15th, 2020
The Wife Stalker by Liv Constantine
Order on Amazon | Support local bookstores
This was exactly what I wanted in a twisty, cat-and-mouse thriller.
A man's wife (Joanna) and the ritzy, New-Age woman who wants to steal him (Piper) are pitted against each other in an all-out battle. To save her marriage and her family, Joanna's only choice is to dig into Piper's secret past, and she finds out Piper has a LOT to hide. Of course, things begin spiraling out of control and dark secrets come to light.
This book made my blood boil – in the best way – and I couldn't stop reading. You will have to suspend your disbelief a bit with this one, but it's worth it! All in all: the Wife Stalker makes for an entertaining and addictive summer read.
Rating: 4/5 stars | Release date: May 19, 2020
Follow Me by Kathleen Barber
Order on Amazon | Support local bookstores
For me, this book hit reaaal close to home. Not only am I easily paranoid (just ask my husband), but I'm also a blogger. And while I'm not nearly as social-media obsessed or over-sharing as the main character here, parts of this book were SO relatable. (Lightroom presets, Google analytics…Kathleen Barber is either a blogger herself or she really did her homework!)
The plot: Audrey, an uber-popular Instagram influencer & blogger, picks up and moves from New York to DC for a new job at an elite museum. As she settles into her new life, she slowly starts to realize that all that social media over-sharing might have attracted a stalker into her life. (And a particularly determined one, at that).
The story sucked me right in, and I loved swapping between the 3 POVs. Both Cat & Audrey felt like they could leap off the page and walk right into our world as real people. Though the main character, Audrey, is clearly flawed (a little self-centered), I still found her likable. As the reader, it was so interesting to see others' perspectives on her versus her own perspective & intentions.
This is a solid thriller with a fascinating and highly entertaining concept. And it's SO relevant to this day & age. Do yourself a favor and pick this one up!
Rating: 5/5 stars | Release date: February 25th, 2020
The Heatwave by Kate Riordan
Order on Amazon | Support local bookstores
After an accidental fire occurs, a woman and her daughter return to their family home in the south of France after years of living in London. But from the moment they arrive, a sense of dread begins to take hold.
The cottage holds secrets from the past – like what happened to their family, including the woman's older daughter, before they left. And those secrets won't stay hidden for long.
Rating: 4.25/5 stars | Release date: August 18th, 2020
Little Secrets by Jennifer Hillier
Order on Amazon | Support local bookstores
This is the type of thriller that claws its way into your mind and doesn't let go (a.k.a the best kind!). It's an emotional hard-hitter with an action-packed plot.
The main character, Marin, was easy to root for. Some of her actions were fueled by emotions rather than reason (but we're all human, and we all make mistakes). Her son – her entire world – was taken from her, with no explanations. I could imagine myself in her place, and as the story evolved, it felt both devastating and hopeful (depending on the moment).
I especially loved that this story was set in my hometown in the Pacific Northwest (Seattle, WA). I felt like I was transported back there – to the bustle of Pike Place market and the rolling hills of Queen Anne.
I recommend going into this book blind. Don't read the synopsis. It's best to find out each twist and turn as you go, and I think the summary gives too much away. Even knowing what was going to happen in the first third of the book, though, my attention never waned.
Rating: 4.5/5 stars | Release date: April 21st, 2020
Somewhere in the Dark by R.J. Jacobs
Order on Amazon | Support local bookstores
The story follows a young woman trying to rebuild her life after a childhood of neglect – until she becomes a suspect in a famous singer's murder.
At a young age, Jessie Duval spent over a year of her life trapped in a pitch-black closet, with nothing for comfort but a single country CD by singer Shelly James. Years later, she decides to follow Shelly James on her tour across America. But things go very wrong, and she's arrested for stalking and endangerment during a concert.
Now, after some jail time and lots of therapy, she's working on rebuilding her life. She has a catering job she enjoys, and she even has her own apartment. But when her job brings her back into Shelly James' circle, and Shelly is found dead soon after, Jessie becomes the #1 murder suspect. How can she prove her innocence when all signs point to her looking guilty?
Click here to read my full review.
Rating: 4.5/5 stars | Release date: August 11th, 2020
You Are Not Alone by Greer Hendricks & Sarah Pekkanen
Order on Amazon | Support local bookstores
This fabulous thriller-writing duo has done it again. I loved how twisty Greer Hendricks and Sarah Pekkanen's first book (The Wife Between Us) was. I'm happy to report: their third book together is just as addicting as their first!
I mean, I finished it in less than 24 hours, so that tells you something. But it wasn't JUST the intense plot that kept me glued to the page. I loved the unique statistics angle, and the protagonist was relatable. Who hasn't felt lonely at some point in their lives?
Sure, there are a few places you'll have to suspend disbelief (as with many thrillers). But when it comes to entertainment factor: this book delivers!
Rating: 4/5 stars | Release date: March 3rd, 2020
More thrillers released in 2020 with lots of buzz (I still need to read these!):
The Sun Down Motel by Simone St. James
Long Bright River by Liz Moore
Darling Rose Gold by Stephanie Wrobel
One of Us is Next by Karen McManus
The Last Flight by Julie Clark
Want more? Here's my full list of the best thrillers released in 2020 so far on Bookshop.org. Or, check out my list of best 2023 thriller books!
And those are my picks for the best thriller books of 2020! I hope you enjoy these stellar thrillers. What's been your favorite suspense read this year?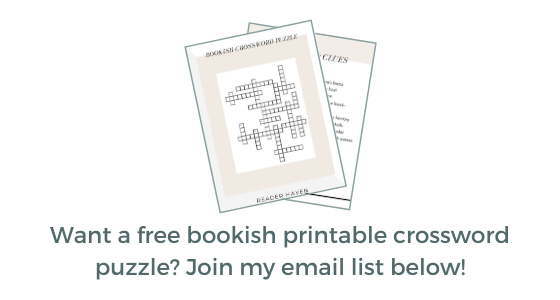 You might enjoy these Bookstagram-related products: